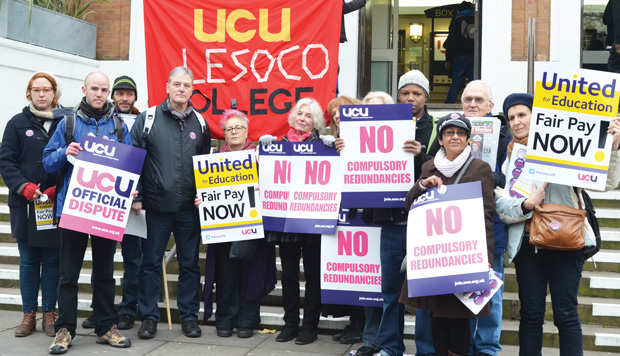 Colleges across the country have been hit with industrial action as staff took part in strikes over pay.
Members of the University and College Union (UCU) manned picket lines after eleventh-hour talks with the Association of Colleges (AoC) failed to result in an agreement.
It is understood that among the colleges affected this morning were Lesoco (formerly Lewisham College and Southwark College), Blackburn College, Hull College, Redcar and Cleveland College and City of Liverpool College.
The strike was called, the union claims, after "a series of below-inflation pay offers from the association since 2009 mean FE lecturers have seen their pay cut by more than 15 per cent in real terms".
And, following a pay offer of 0.7 per cent this year, the union balloted its members in FE colleges in England. More than two thirds of those who voted (71 per cent) backed strike action. The union had been seeking a 5 per cent deal.
Sally Hunt, UCU general secretary, said: "The strength of support for this action by staff has meant it has not been business as usual.
"Staff have reached rock bottom with massive pay cuts over a long period yet they see their institutions ploughing money into new buildings and giving those at the top six-figure salaries.
"What we are asking for is a modest and affordable pay rise to reward those who are the backbone of our post-16 education system and who have made it the success story it is today."
The UCU strike vote came despite the AoC having reached agreement with Unison, AMiE, ATL, UNITE and GMB through the National Joint Forum.
Emma Mason, director of employment policy and services at the AoC, said: "Since 2010 government funding to colleges has reduced by 25 per cent. "UCU's industrial action risks damaging the education and training of students, undermines the reputation of colleges both locally and nationally and places an undue burden on non-teaching staff and non-union members to take measures to minimise disruption to the student experience."
She added: "The pay recommendation for 2013/14 is for a 0.7 per cent increase and £282 for staff earning £14,052 or less and increases the recommended minimum hourly rate to £7.45 in line with the UK Living Wage."
College staff were joined in strikes by university colleagues, who were in their own national pay dispute. Staff from higher education institutions were, according to the UCU, offered a 1 per cent pay rise this year, despite their pay falling by 13 per cent in real terms in the last four years.
A spokesperson for the Universities and Colleges Employers Association, which represents and negotiates on behalf of universities as employers, said: "Our 150 participating HE employers confirmed that the pay increase offered is sustainable, fair and final."
Main photo: Lesoco (formerly Lewisham College and Southwark College) staff take part in national demonstrations over pay. Photo by Nick Linford