The Shadow Education Secretary, Tristram Hunt, chose the Association of Colleges conference as the venue for his first speech since taking on the role in early October. He used to opportunity to outline policies laid down by his party's Skills Taskforce in its second report, entitled Transforming further education: A new mission to deliver excellence in technical education. Here are extracts from his pre-prepared speech along with some of the key recommendations from the Skills Taskforce report, published on November 21.
In government, it will be an early and vital priority to rebuild our careers service for young people.
They are being failed at the moment — and we can see the social and economic consequences all around us.
And these failings particularly hurt vocational education — where the routes to qualifications and accreditation are often harder to decipher.
I want to make it very clear that raising the status, the standing and the standards of vocational education will be a signal task of Labour's time in office.
It is why I chose to come to this conference to give my first speech as Shadow Education Secretary.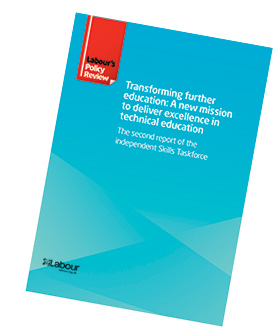 For there can be no transformation of vocational education in this country; no change in the fortunes of the forgotten fifty per cent; no improvement on social mobility, without the hard work and dedication of the people in this room.
If that were not already clear, then the shocking findings of two recent reports — from Alan Milburn on social mobility and from the OECD [Organisation for Economic Co-operation and Development] on our numeracy and literacy skills — have made it so with devastating emphasis.
When social mobility has ground to a halt; when older age groups have better numeracy and literacy skills than our young people; and when the long tail of underperformance wags hardest in the 14 to 19 age range; then none of us can afford to be complacent.
But this is not just about social justice. It is also a matter of absolute economic urgency.
Just as in 1997 we saw that higher education expansion was vital for our future competitiveness we now realise how vital vocational excellence is for the same reason.
Byzantine funding regimes; perverse incentives; shambolic co-ordination; central government and its agencies have a lot to answer for when we consider the proliferation of qualifications and the breadth of provision.
Where academic rigour is strong it is absolutely right that colleges continue to deliver A Levels and send students to higher education.
But the most important thing we can do to deliver vocational excellence is to bring about a transformation in apprenticeship provision, both in terms of quality and quantity.
But this is not just about social justice. It is also a matter of absolute economic urgency
We will say to business: 'If you want a major government contract you must provide apprenticeships for the next generation'.
But we will give employers more control over skills standards and funding.
And we would guarantee quality by ensuring that apprenticeships are all level three or above qualifications and last a minimum of two years.
Of course mandating that apprenticeships should be of level three standard does not remove the need or demand for level two qualifications.
But that is what I would call a real traineeship.
Indeed, the truth is that too many apprenticeships in this country are delivered at a level that would not be recognised as an apprenticeship in places like Germany.
And in far too many cases they are a cover for the repackaged re-training of existing employees.
But changes to apprenticeships are only one half of the equation.
Alongside delivering the off-the job training component of apprenticeships, this must be where FE applies its focus.
Alongside compulsory English and maths, our Tech Bacc would be accredited by business and contain a work experience requirement.
However, a gold-standard must be seen that way by all — by parents, businesses, colleges and, most of all, by young people themselves.
So the Tech Bacc must only be delivered by highly qualified lecturers, who understand how to tailor curricula and pedagogy to the needs of learners and employers.
So I can announce today that as part of Labour's new mission for FE, colleges who demonstrate strong performance in specialist vocational teaching; strong links with local employers; and high quality English and maths provision would be recognised as specialist Institutes of Technical Education.
And only Institutes of Technical Education would be licensed to deliver our gold-standard Tech Bacc and the off-the-job component of apprenticeships.
What is more, to make absolutely sure that business buys-in to our gold standard, we will take advice from the UK Commission on Employment and Skills responsible for determining the exact criteria for awarding the licenses.
With this comes a renewed focus on English and maths.
Numeracy and literacy are the most basic 21st century skills. Contrary to the government, we think it is right to follow the lead of our international competitors by making English and maths compulsory to 18 for all students.
And part of the answer certainly lies with improving teacher quality. Better teaching equals better standards.
So, unlike the Government, we would require that all FE lecturers hold a teaching qualification and because English and maths is so important to our educational performance, we would ensure that all
FE teachers hold a teaching qualification at level two or above in English and maths.
We would allow the Education and Training Foundation to set tough minimum standards on qualification and CPD requirements for teachers in FE colleges.
And we would improve vocational excellence by ensuring that teachers spend a period of time in their industry each year, developing their specialist area.
Download your free copy of the FE Week 16-page highlights from the AoC conference 2013 supplement, sponsored by NOCN.
Click here to download (16 mb)