From Birmingham in 2013 to Brazil in 2015
Around 700 talented young people competed to be crowned the best in the UK at this year's Skills Show.
The event, in its second year, plays host to a series of sector competitions to find the UK's best young craftsmen and women with the aim of getting them through to WorldSkills 2015, in Brazil.
Winners were announced last night and the medallists will be invited to a selection event in Loughbrough, in January, to assess their skills and personal attributes.
It will be followed by more training and honing of skills in the lead up to the biennial WorldSkills competition, alongside mentoring to help competitors cope with the experience.
Head of international skills development at the National Apprenticeship Service Eugene Incerti (pictured) explained to FE Week reporter Rebecca Cooney how competitors got there, and what was next on their WorldSkills journey.
Most young people need a nudge from their tutors to get them started, said Mr Incerti.
"Very few people will think 'oh I'd like to go to a competition', it's somebody whispering 'you should have a go at that'," he said.
Sometimes, he added, the level of technical skill may not be the most important thing.
"Enthusiasm is number one," he said.
"If they're really keen on the subject, where you don't have to teach them because they want to learn that's the sort of people we're after.
"It's better to see them do the basics right at this stage so they're on solid base and easier to take forward, rather than somebody who can do the flashy bits but not the basics."
Competitors normally come up through regional competitions, but being the best in your area does not guarantee getting through to the national finals, warned Mr Incerti.
"After the regional heats the top 10 or 15 highest scorers nationally may be invited to the final.
"So you could be the highest scoring in Cornwall for example, and still not get to the final because it's about the quality of the competitors, so they are all consistent nationally."
"The experts we have out there now are not looking for the finished product, really we're just looking for the spark of potential," he added.
Our Mann joins former dragon to have a go
At this year's Skills Show, patron and former Dragons' Den investor Theo Paphitis could be found striding around  Birmingham NEC at breakneck speed doing Have a Gos and generally getting into the swing of things.
FE Week reporter Rebecca Cooney caught up with him to find out what he thought of this year's show.
"I don't think I need to try and put into words what the show is about this year… you can hardly move, it's rammed," said Theo.
"The success of this show now is going to give us a springboard to go on to the next stage.
"Birmingham has proved a concept — if you have a big skills show, people want to be involved in it, they want inspiration and information, and it's out there today."
Theo said he was keen to keep growing the show, so that as many young people as possible could come and be inspired by it.
"We had 70,000 odd kids last year on the Thursday and Friday," he said.
"This year we've built on that, we're at 100,000 plus and I don't think we could physically get many more people in here next year, it's just not possible.
"So we've got to look at 'what else do we do from here?'"
"I mean there's Saturday, but that's very much a family day, so we still need that weekend day, which reaches a different audience."
This "next stage" he said, could be a series of regional Skills Shows.
"While we're talking about different audiences, the show in Birmingham has proved that it works, why shouldn't there be one in the North East? Why shouldn't there be a Skills Show in the south, or in Scotland or Wales?"
Theo confirmed he would be staying on as patron next year, saying he was "committed" for at least th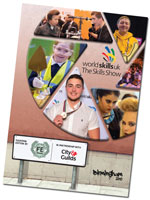 e next year.
"For me the most exciting thing about the Skills Show is not one individual thing," he said.
"For me the most exciting thing is all the people out there, it's working, and if you put so much energy and time in and so many people put energy and time and effort into this show, to see it working — it doesn't get better than that."
Download our Skills Show souvenir edition here.
Also see WorldSkills UK national finals league table on page 24
Nick Clegg talks to the editor about traineeships and the review of youth employment schemes
Deputy Prime Minister Nick Clegg has warned against the dangers of exploiting young people through unpaid traineeships.
In an exclusive interview with FE Weekat the Skills Show in Birmingham, Mr Clegg said the new government-funded traineeships with unpaid work placements lasting up to five months were "constantly under review".
"I think over time what we need to do is make sure all these routes into full-time, fully paid work whether internships, traineeships, apprenticeships, never ever become an excuse for cheap labour," he said.
Mr Clegg acknowledged that with such schemes there was always a risk of exploitation, but said the government would be keeping a close watch on them.
"We are the first government to introduce an apprenticeship minimum wage, so we'll constantly keep this under review because we certainly don't want to sully the good name of these initiatives by not making sure that young people can also financial survive as they're learning on these schemes," he said.
During the same interview, Mr Clegg also revealed that the outcome of the cabinet review into the schemes available through the government's £1.5bn Youth Contract programme was "impending".
"I've asked [Cabinet Office Minister] Sir Jeremey Heywood to conduct this review, he's now coming to the latter stages of his review but he hasn't yet submitted his report… I hope he will be able to do so in a couple of weeks," he said.
"I've had several discussions with him and his team, and constantly pushed them to be more ambitious about creating a simplified system, also making sure that the kind of information, advice and guidance which is provided for pupils at school — when it has the biggest impact — is more professionally, systematically and consistently done across the school system, and I know Michael Wilshaw and Ofsted are very much of the same view as well."
He added: "I listened very closely to what a lot of young people told me about the dizzying array of choices they face when they're looking to bridge the world of education to the world of work and I've spoken to FE college leaders, to employers.
"Everybody agrees it's just too complicated, and the choices for youngsters need to be dramatically simplified so that the junctions in the road, if you like, are more clearly signposted for them."