The Skills Funding Agency was forced to reject several "good quality" college projects to avoid an overspend in its 2014-15 capital budget, it has been claimed.
Chief executive of the Association of Colleges Martin Doel complained about the agency decisions in a letter to Skills Minister Matthew Hancock (pictured right).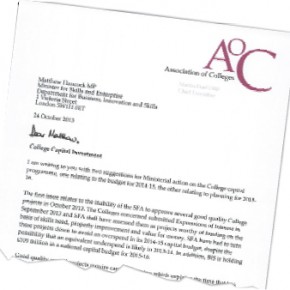 Mr Doel claimed the projects could have been funded if the government allowed an underspend on its 2013-14 budget to be rolled over into next year.
He said: "The colleges concerned submitted expressions of interest in September 2013
and the agency's staff have assessed them as projects worthy of funding on the basis of skills need, property improvement, and value for money.
"The agency had to turn these projects down to avoid an overspend in its 2014-15 capital budget, despite the possibility that an equivalent underspend is likely in 2013-2014.
"In addition, the Department for Business, Innovation and Skills [BIS] is holding £100m in a national capital budget for 2015-2016."
Mr Doel claimed restrictions stopping capital underspend from being rolled over to the following year were forcing the agency to reject larger projects that offered better value for money.
He alleged the agency was instead inviting bids from smaller projects simply because they could be completed faster.
Mr Doel suggested the agency should be allowed to transfer between £50m and £100m left over from its 2013-14 capital budget to the following year.
Otherwise, a "modest sum" should be released from its 2015-16 budget.
A spokesperson for the agency said it would "bear in mind" Mr Doel's suggestion.
He added: "We continue to work closely with BIS, the association and sector representatives as we manage this significant allocation to ensure it obtains assurance that a robust, fair and transparent approach has been applied.
"Public funds will only be made available where there is a strong case for doing so."
Mr Hancock failed to address the suggestion that the agency's 2013-2014 underspend be allowed to roll over.
Nevertheless, he told FE Week: "We successfully secured a strong FE capital budget to support projects between now and 2015.
"We operate robust financial management arrangements to spend tax payers' money wisely and avoid overspend and the consequences it can bring to the sector, something they know about from mistakes in the past.
"All projects approved meet value for money and financial management criteria and we will continue to work hard to improve college estates and provide a strong framework for capital."
A Freedom of Information request has been lodged by FE Week to identify the colleges whose funding applications were rejected.