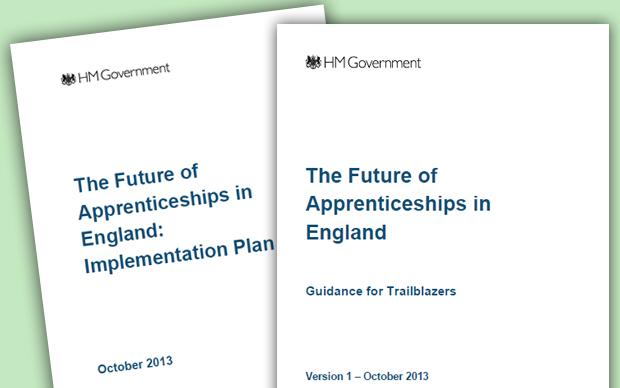 The government has this morning confirmed in a newly-published implementation plan that it would put apprenticeship design in England in the hands of employers.
And the skills minister, Matthew Hancock, went further, saying: "It will also provide a blueprint for wider reform in vocational education."
The plan comes at a difficult time for the programme with a major training provider having collapsed last week, the latest government figures showing apprenticeship all age starts and success rates falling and employers increasingly paying their apprentices below the legal minimum wage. Meanwhile, out of 131 Ofsted inspections last year, no independent training provider recieved the top grade.
Nevertheless, the decision to put the apprenticeships programme in the hands of employers follows the Richard Review, published in November last year and the subsequent consultation, which ended in May.
The key announcements in today's plan include:
— Apprenticeships will be based on "standards designed by employers", which will "replace current frameworks." The "aim is that, from 2017/18, all new Apprenticeship starts will be based on the new standards. As the new standards are developed and agreed, we plan to cease funding Apprenticeships under current frameworks".
— Employers will also "have a key role in developing the high level assessment approach" to include "rigorous independent assessment, focused primarily on testing their competence at the end of their apprenticeship".
— Eight sector-based Trailblazer projects, supported by Lord Sainsbury's Gastby Foundation, have already "signed up" to lead the first phase of apprenticeship standard design. They are: aerospace; automotive; digital industries; electrotechnical, energy and utilities; financial services; food and drink manufacturing and life sciences & industrial sciences.
— Apprenticeship completions will be graded in future, as either pass, merit or distinction.
— The 12-month minimum duration will be applied without exceptions, such as for prior attainment.
— 'Mechanisims' to enforce at least 20 per cent off-the-job training will be considered.
— English and math requirements "will be stepped up gradually".
— A National Apprenticeship Council will be created and "run by young people with elected representatives to spread peer to peer messages".
It said in the plan: "Given the radical and far-reaching nature of these reforms, it is essential that we carefully monitor and evaluate their impact. This will enable us to determine whether they are having the intended positive effects, whether they are having any unintended consequences and, if so, whether any further refinements to the reforms are needed."
Stewart Segal, chief executive at the Association of Employment and Learning Providers (AELP) said he supported the key objectives of the reform but they "need to be carefully thought through with the key decisions made by employers in partnership with the sector specialists such as providers, awarding bodies and other stakeholders".
He said: "Some of the changes such as the grading of Apprenticeships could add complexity and cost without adding significant value, so we should ensure that the implications are properly considered."
But Mr Segal appeared cautious about the Trailblazers scheme, adding: "Trailblazers appear to be heavily biased towards larger employers." He also recommended that, "any funding proposals are held back until the sector has an opportunity to see how the Trailblazers develop".
Katja Hall, chief policy director at the Confederation of British Industry, said: "The real test of the new system will be whether it is simple; works for firms of all sizes; and puts the funding in the hands of businesses."
Whether apprenticeships will be funded via the tax system, one of three options outlined in a separate consulation that closed in early October, won't be announced until "later this year and the implementation timescale for it will depend on our choice of delivery model."
Employers or professional bodies interested in getting involved in an existing or new Trailblazers should contact: Apprenticeship.Trailblazers@bis.gsi.gov.uk
————————————————————————
Join FE Week editor Nick Linford and Skills Minister Matthew Hancock for a webinar to discuss the government's plan tomorrow at 3pm. Click here to register.