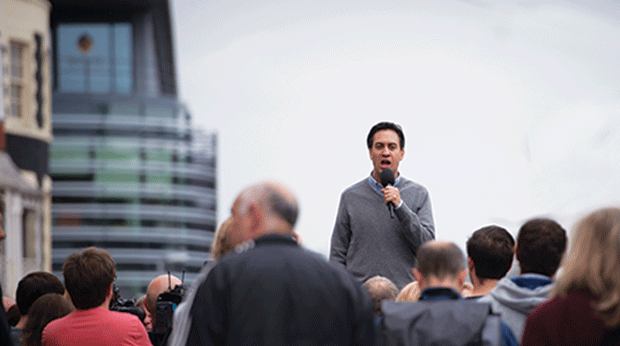 Labour leader Ed Miliband has been told to "go back to the drawing board" with his plans to create 125,000 apprentices.
The proposals — in which companies would be forced to train a "local" apprentice for every foreign worker they take on — were branded "illegal" by Skills Minister Matthew Hancock, who further questioned Labour's claims the apprenticeships wouldn't cost the taxpayer a penny.
Any firm that wants to bring in a foreign worker must also train up someone who's a local worker' — Ed Miliband
He told FE Week: "Apprenticeships are hugely valuable in their own right and a partnership between employer, apprentice, and government — it's back to the drawing board I think."
The government on average pays around £2,000 per apprentice, to cover the cost of the college or other training provider delivering the formal vocational learning.
Under normal circumstances, the government would therefore have to fork out £250m for the 125,000 apprentices in Labour's proposal.
Mr Miliband unveiled the radical policy during a walkabout in Brighton, ahead of his party's conference.
And a spokesperson for the party's shadow home affairs team later claimed the entire cost would be covered by employers.
"The companies themselves will be required to provide the apprenticeships, so [there will be] no additional cost to the government," he told FE Week.
"We consider that it is incorrect to say it would have to be government-funded to be considered an apprenticeship."
But Mr Hancock said Labour was wrong and there was always a cost to the government for apprenticeships.
"It seems like Labour don't understand the basics of how apprenticeships work," he said.
Mr Miliband first explained the details of the policy to the Sunday Mirror, on September 22.
He said: "We're going to say to any firm that wants to bring in a foreign worker that they also have to train up someone who's a local worker, training up the next generation.
"We think that can create up to 125,000 new apprenticeships over the course of five years. That is a massive boost in skills for our young people and that is really important."
The statement appeared to suggest firms with more than 50 employees would be forced to take on British-only apprentices.
However, Mr Hancock poured scorn on Mr Miliband's plans that afternoon via Twitter, claiming efforts to limit apprentices to the UK would break European law.
He expanded on the point during a debate on FE, hosted by FE Week, at the Labour conference.
Mr Hancock claimed the policy was an "unworkable gimmick" and said: "With regards to this idea for every non-EU migrant a company employs, they should employ a British apprentice, that didn't sounds like it fitted with European Union law to me, so I sought legal advice.
"The government legal advice was very clear — that it is illegal under European Union law."
Labour then appeared to alter its stance over the course of the week.
The party's shadow home affairs team claimed on Wednesday that Mr Miliband actually meant companies could employ an apprentice from any European Union country.
He said: "In accordance with existing practice, we have never intended to limit apprenticeships to UK nationals.
"But the evidence shows 92 per cent of existing apprenticeships in the UK are taken up by UK nationals and an even higher percentage by locals.
"Exactly the same will apply to these new apprenticeships and it's extraordinary the Tories have set their hearts against additional apprenticeships at a time when a million young people are out of work."
————————————————————————————————————–
Editorial : Buy one foreign worker, get an apprenticeship (not for) free

It's right to look for policies that might increase apprentice numbers.

But employers should be looking to take apprentices on because they see the value in doing so.
Forcing firms to take on an apprentice and to pay their wages and also training costs is the wrong way to do it.
How would you feel if your boss only took you on because they had to?
I would be worried about my long term employment prospects.
I would also have grave doubts about the amount of time and money that was going to be invested in my training.
And, of course, this policy proposal is wrapped up in anti-immigration rhetoric with the new apprentice getting a job simply because their boss had taken on someone from outside the EU.
It's a shame Labour decided to saddle the future of apprenticeships with such a divisive policy when the guiding ethos of FE has always been one of inclusion.
All in all this seems to be a bad idea.
Bad for employers, employees and FE.
Nick Linford, editor