Pictures and messages from colleges across England, celebrating A-level results day.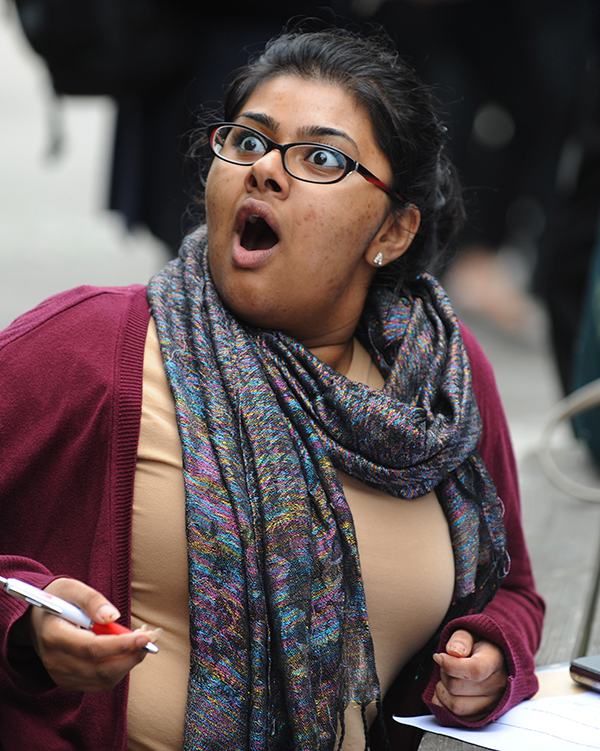 Stockton Riverside student Lizzie Carr, 18, (pictured above) gained the results she needed to study physics at Oxford University. The 18-year-old from Norton achieved two A*s and an A grade in maths, further maths and physics.
She said: "I felt so sick earlier on this morning before I got my results, but now I'm just over the moon. It's such a relief – but I'm so happy as well. I'm really looking forward to studying physics at degree level – it sounds a bit nerdy, but that's what I'm most looking forward to. Afterwards, I'd love to stay in academia and do research."
Lizzie's results are even more remarkable, because she missed two months of school after being diagnosed with Adolescent idiopathic Scoliosis – a painful curvature of the spine, when she was 13, which meant she struggled to walk or stand and had to have an operation when she was 14.
"I'm so excited about going to university – I cannot wait," she said.
ncn student Jade Clarke, 19,(pictured above) got A*AA for English Language, Geography and Psychology respectively and is off to Bristol University to study Geography
She said: "I'm ecstatic to have got the results that I did as well as shocked as I wasn't expecting to do so well! Studying at ncn has been a brilliant experience full of opportunities, as I was able to get involved in a lot of extracurricular activities. It's also made me really passionate about the subjects and I have created my own blog www.jadesgeographyhub.co.uk – I can't wait to add to this when I go to university."
Warwickshire College students Kurt Shead and Jade Hartwell (pictured above) were delighted with their results.
Kurt Shead 21, from Kenilworth, achieved an A* in law and As in English literature and history. He said, "I'm really happy to have got my place at Warwick University to study English literature. I'm a writer, so it's the place to be."
Jade Hartwell, 20, from Rugby achieved a stunning 3 A*s in physics, Maths and History and is off to Nottingham University to study physics. "I want to go on to do research and was hoping for one A* but 3 is fantastic. I couldn't have done it without the support from the college."
The early bird caught the worm at Weston College.
Friends Desi Georgieva, 19, and Catherine Malcolm, 18, (pictured above) were among the first to get their results this morning and screamed with delight as they opened their envelopes.
Desi, who came to Britain from Bulgaria seven years ago, achieved an A, three Bs and a C, and is now off to the University of Bath to study International Management and Modern Languages.
She said: "I feel amazing. This is such a good day for me and I can't believe I've finally got the results I wanted."
Catherine, of St George's, got an A in Religion and will be taking up a place at Bristol University to study Religion and Theology.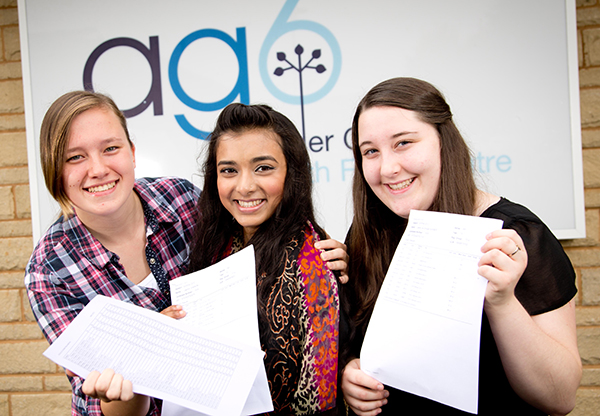 For one Birmingham Metropolitan College student, brilliant A level results meant the start of a whole new career.
Former mental health worker, Belasim Moosavi (pictured above) is aiming to pursue a career in scientific research after gaining a place at Cambridge University to study natural sciences.
"The college has made all this possible for me," said the 32-year-old who achieved three As in biology, chemistry and maths. 
"My interest in science grew from my studying GCSEs in evening classes at the Sutton Campus.  This led to A levels and the suggestion that I apply to Cambridge. 
"It was challenging being a mature learner studying among 16 to 19-year-olds but there was lots of support from BMET and their careers service. I'm really pleased with my results." 
All the hard work has pair off for students from Esher College (pictured above).
Ben Platt who achieved four A* grades in biology, history, German and Spanish, said: "I am really pleased with my grades. Thanks to my teachers, especially the Language department, for helping me realise my goal of studying German and Spanish at St Catherine's College, Cambridge. I'm really looking forward to starting the course in October."
Monica Oluwole who achieved an A* and two B's at A Level said: "Words can't describe how excited I am to begin university in September; two years of hard work and determination have paid off!" Monica is going to study Law at Southampton University.
Simon Marshall who achieved an A* and two A grades said: "I'm so pleased with the grades I got. It was a big relief to have them, as I was getting really nervous over the past few weeks. I'm very grateful to my teachers as well, their supportiveness made all the difference."
Simon is taking a gap year, and will then apply for a politics degree starting in September 2014.
Matt Hollands who achieved four A* grades in maths, further maths, chemistry and physics said, "I'm relieved to have achieved the grades I did. I will be studying engineering at Cambridge next year. Thanks to all the teachers and staff who have supported me at Esher."
Tom Rogers, 18, from Northallerton College, (pictured above) achieved three A*s and one A grade in applied IT double award, English and psychology despite being confined to a wheelchair with mobility limiting cerebral palsy.
Tom, who requires full time care, is now set to take up a place at Northumbria University to study psychology and hopes to become a forensic psychologist.
"I am absolutely elated with my results," he said.
"Because I lack certain practical skills academia is very important to me as it's an area where I feel I have the most to give.
"I've enjoyed a fantastic experience at Northallerton College and am really looking forward to moving on to university."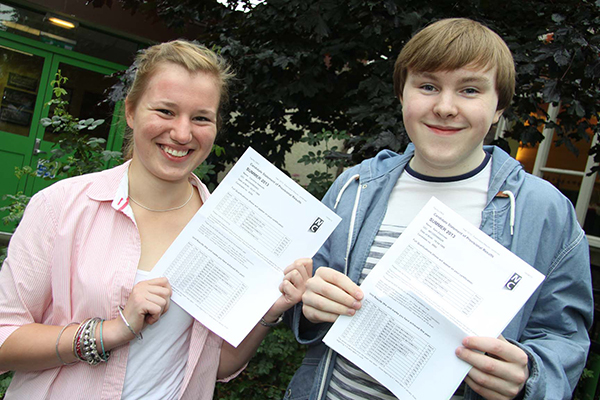 North Hertfordshire College students (pictured above) told FE Week what they were planning to do next.
Olamide Owojori, 18, from Stevenage, said: "I got an A in sociology and two Bs in law and psychology, which is what I wanted, and I've now got a place to study Law at Brunel which was my first choice. I'm really, really excited."
Kirsty Voller, 19, from Luton, said: "I got an A* in my extended project qualification, B in psychology, a B in sociology and a C in English. I'm going to Huddersfield University to study psychology, which was my first choice and I've wanted to study psychology ever since I started my A levels."
Emma Page, 18 from Stotfold, his off to Bangor, having achieved a place to study law with social policy.
Sunderland College students (pictured above) all have their own reasons to be pleased with their impressive results.
Wenhui Tan, 18, from Hendon in Sunderland achieved one A*, two As and two Bs.  She hopes to study maths and statistics at the University of Bristol.
She said: "I moved to the UK from China two years ago, so college was not only a challenge for me academically, but also because of the language barrier.
"The college helped me a lot and I think their support really helped me to achieve the grades I did."
She added: "I'm really looking forward to getting to university and putting into place the skills I have gained during my time at Sunderland College."
Emily Elkington, 18, from Tunstall, Sunderland, studied psychology, sociology and religious studies at A Level, as well as undertaking an extended project in psychology. She achieved two A*s and two As. Emily plans to study psychology at the University of Nottingham, and hopes to become a neuro-psychologist after her studies.
She said: "I've always known what I wanted to do and when my mother suffered a brain injury in 2011, it made me sure that I wanted a career in neuro-psychology.
"I was average at GCSE level, but the support and encouragement I got from the college made me blossom. My lecturers had faith in me and I started to believe in myself and work harder.
"I put my social life on hold to focus on my studies, and just hoped it would pay off. I cannot take the smile off my face today. I'm so happy."
Jonathan Softley, 18, from Newbottle, Houghton-le-Spring, achieved two As and one A*.  He studied maths, chemistry and physics and is going on to Newcastle University to study chemical engineering.
He said: "Chemical engineering seems to fit really naturally with my interests so I'm looking forward to studying it – although a little apprehensive.
"I really enjoyed my time at Sunderland College.  The lectures were great and really supported me with help and advice. I'm sad to leave."
Sam Morrison, 17, from South Shields, is going on to study for a degree in medicine at Newcastle University. He studied maths, physics, biology and chemistry at Sunderland College, achieving a clean sweep of A* grades.
He said: "I'm really happy. My place at Newcastle University was conditional, so I had to achieve at least three As to make the grade. It was a nervous wait and I didn't get too much sleep last night.
"I have always wanted to be a doctor, so I am looking forward to getting started on my course. The support I have had from the college has been great and the lecturers have been fantastic. I'm sorry to be leaving Sunderland college, but looking forward to meeting new people when I move on to Newcastle."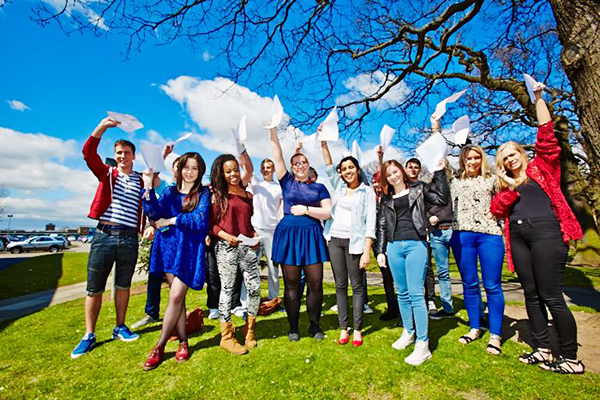 Students celebrating at Stockton Sixth Form College
A @prestoncollege tweet:  Jeremy Heywood, Shara Edgar, and Connor Brown all off to uni with their excellent grades