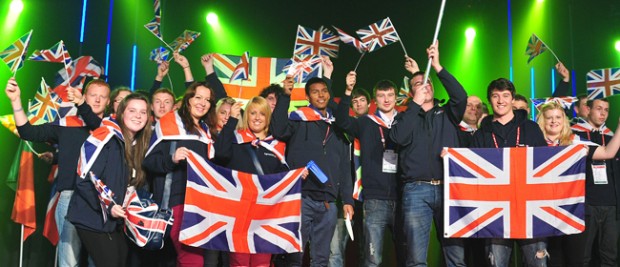 Squad UK are celebrating their tremendous success at EuroSkills 2012 this evening after achieving 7 medals.
Squad UK won medals in the following skills:
Gold Medal – Hannah Clague, Hairdressing (and best in Nation)
Gold Medal – Philip Glasgow and Gareth Jones, Carpentry
Silver Medal – Sarah Smithers and Jenna Stephenson, Visual Merchandising
Bronze Medal – Reece Johnston, Painting and Decorating
Bronze Medal – Robert Broomsgrove, Stone Masonry
For Squad UK, competing at EuroSkills forms part of their training programme ahead of competing for a place in the Team that will represent the UK at WorldSkills Leipzig 2013, the world's largest international skills competition.  At this competition, the UK will compete against over 50 countries to win Gold, Silver and Bronze medals in a range of skills.
Jaine Bolton, Chief Operating Officer, National Apprenticeship Service said:  "Congratulations to Squad UK.  Their performance at EuroSkills has shown how talented our apprentices and young people are.
We want Squad UK's performance at EuroSkills to inspire our young people, just like the Olympics did, and show them that Apprenticeships can lead to rewarding and successful careers."
Hannah Clague, 21 from Gloucester and attends Red Edge Training Company said: "It is amazing to have won a Medal in Hairdressing  and to be named the best/one  of the best in Europe at such a young age.  This will certainly help my career and I hope it will show other young people that with determination and practice they too can have great careers."
Squad UK members that did not compete at EuroSkills will take part in other competitions and industry events as part of their training programmes.  This includes WorldSkills UK – The Skills Show, which takes place from 15 – 17 November at the NEC Birmingham.  Squad UK members in Beauty Therapy, Cooking and Confectionery will be in training at The Skills Show, demonstrating their skills to visitors and showcasing how skills competitions can drive up levels of expertise.
The achievements made at EuroSkills this week are a massive boost for SqaudUK who will commence a more challenging and comprehensive training programme over the next 9 months, in preparation for the global skills competition, WorldSkills in 2013.
Check out next week's edition of FE Week which will have interviews with the UK's medalists, Training Managers and the President of WorldSkills International and full coverage from EuroSkills 2012 in Spa-Francochamps, Belgium.