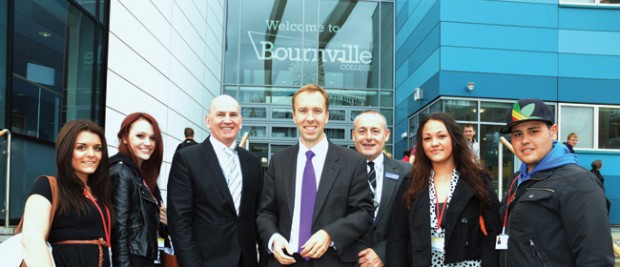 New further education minister Matthew Hancock has told for the first time of his "exciting agenda" for change when he spoke exclusively to FE Week.
The joint Parliamentary Under Secretary for Business, Innovation and Skills also took time out from his first ministerial visit to insist colleges would be given more freedom to meet the needs of students and employers.
"It [FE] is something I've cared about for a long time and it's a real privilege to be asked to be responsible for it in government," he said during a tour of Birmingham's landmark £66m Bournville College.
"There are lots of areas where we can do more and go further.
"An exciting agenda of giving colleges more freedom to deliver what students and employers need was set out by my predecessor [John Hayes] and I'm keen to continue."
Mr Hancock said that he hoped to learn more about FE on trips, such as his visit on September 20 to the 4.2-acre campus site and former home of car manufacturer Rover.
"You can only find out what's really going on by visiting," he said.
"Only then can you know what changes announced in Whitehall are really doing, so I'm learning and I'm listening and I'm asking lots of questions."
He added: "I've trying to make sure that I know exactly how the system works and figure out how it can work better."
But Mr Hancock said one of his most important early tasks would be to investigate the findings of the Richard Review.
"Doug Richard is going to publish his review into FE and apprenticeships soon . . . I'm looking forward to hearing what he's got to say," said Mr Hancock.
"But I'm keen to continue the strategy that was articulated and set out by my predecessor.
"I certainly want to do all I can to ensure that the focus is on the skills that employers need, and on being passionate about the esteem and the opportunity that FE presents."
And the minister said he was thrilled to be get the FE job.
"I did one A-Level in an FE college many years ago and it's good to be back," he said.
"I was delighted, of course. You don't know what you'll be asked to do, if you'll be asked to do something or what you'll be asked to do, but I was thrilled, not least because of my personal experience of FE and because I know how vital skills are to people across the country and to the future of our nation."
Mr Hancock had earlier quizzed Birmingham students on their own FE experiences, telling them he wanted to hear how it worked from their perspective and find out what they felt could be improved.
"I'm two weeks into the job in charge of FE policy and promotion," he told students.
"I went to school and an FE college as well — West Cheshire College, in Chester — and now I've ended up in charge of the whole thing.
"I want to hear how it works for you [students], to answer any questions you've got and find out what you think can be improved and what you're hoping to get out of it."
He added: "Two weeks seems like a long time ago. I've been learning a lot and I've been trying to make sure I know exactly how the system works and figure out how it can work better.
"One of the things I've been told today is that, given more flexibility, the college can provide better and ensure it meets the needs of employers and that's something I will definitely go away and look at."
He heard how students felt more could be done to present them with all the post-school options. Some also told the minister there wasn't enough awareness of apprenticeships and other alternatives to university.
"I agree very strongly with that," said Mr Hancock. "The options open to you both at 16 and 18 need to be explained much more clearly.
"There's a new duty on schools to provide impartial careers advice and we have to make sure they honour that and that the advice is impartial.
"One of the things I have to do is ensure that happens. We have to ensure they provide good advice and impartial advice. It's easy enough to pass a law but you've got to ensure that happens."
Picture above from left: From left: Antonia Zawlocki, Katie Harris, principal Norman Cave, FE Minister Matthew Hancock, deputy principal Brendan Hartland, Amy Colton and David Semonella. Picture taken by Jamie Cooper for FE Week