The director of the National Apprenticeships Service has mounted a strident defence of the controversial 20-per-cent off-the-job training requirement.
"The 20 per cent remains, absolutely," declared Sue Husband (pictured) in response to a barrage of questions from presenter Kirsty Wark and members of the audience at FE Week's Annual Apprenticeships Conference.
But she promised the government would "listen to what's working, what the challenges are and continue to review how the reforms are working".
Ms Husband recognised that "a lot of ambitious apprentices will choose to do extra work outside of their work time" but that they shouldn't be expected to do so.
"I think they need that support within the workplace," she said.
The NAS director stepped in as a last-minute replacement for the skills minister Anne Milton due to illness. Her wide-ranging speech touched on many aspects of the reform programme.
These included National Apprenticeship Week, the benefits of apprenticeships to employers and individuals, the introduction of the levy, and measures designed to increase apprentice recruitment in small- and medium-sized enterprises.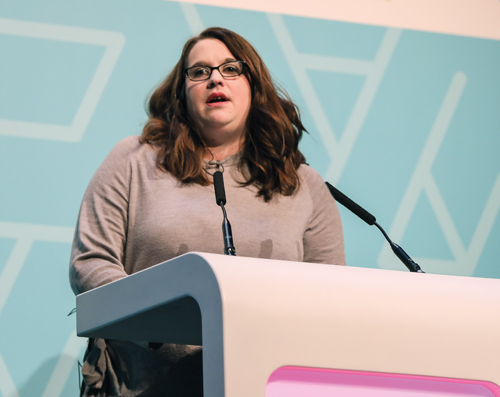 The 20-per-cent rule was a burning topic at this year's conference, following an FE Week survey earlier this month in which it emerged as what the sector considers as the single biggest barrier to apprenticeship recruitment.
In his keynote address on the first day of the conference, Mark Dawe, the boss of the Association of Employment Learning Providers, said that out-of-hours learning should count towards the requirement.
If an apprentice is keen to study out of hours, and the employer and provider both agree to it, "why are we stopping them from doing that if they're getting the knowledge skills and behaviour they need to get the apprenticeship?" he asked.
Speaking exclusively to FE Week, AoC's chief executive David Hughes said the rule is "essential" and "a good place to be at the moment".
However, he disagreed with his AELP counterpart on out-of-hours training.
"I worry it could be pushed on some of the more vulnerable apprentices, perhaps at level two where they don't know any better," he said.
Emily Chapman, the National Union for Students' vice-president for FE, said she was a "big fan" of the 20-per-cent rule – as are apprentices, she said.
"It allows time for education to be thoughtful, apprentice-centred and relevant", she said.