The fallout is continuing over Sir Michael Wilshaw's much-criticised comments about FE — as FE Week has discovered that one of the Ofsted chief's own inspectors is under investigation after calling for him to go.
The chief inspector provoked a huge backlash when he laid into the FE sector during an appearance before the Commons Education Select Committee on March 2 — claiming it was "in a mess" and 16 to 19-year-olds should be taught in schools, not colleges.
It provoked Ofsted inspector Tony Davis into delivering a passionate speech at a recent NewBubbles Leading Aspiration FE Conference, in Heathrow (pictured), criticising Mr Wilshaw's comments and calling for him to be removed from the post before his planned retirement in December.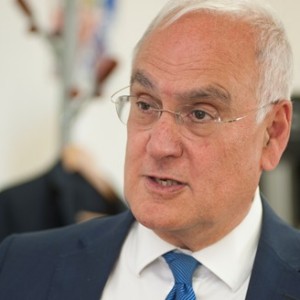 Ofsted has now told FE Week that it is investigating whether Mr Davis, who delivered a presentation with the title "elephant in the room", had breached his contract as a result of his comments.
A spokesperson said: "Our contract with Ofsted inspectors (OIs) sets out clearly our policies and expectations on matters such as conduct, use of the OI title and conflicts of interest.
"We will always investigate when allegations are made to establish if any policy has been breached."
When told about this, Mr Davis told FE Week: "I have in no way contravened my Ofsted contract or the 'OI Engagement Guidance', which says we 'should not damage the reputation of Ofsted'.
"On the contrary, it is because I value Ofsted's reputation so highly that I am asking for the Ofsted leadership to stand down the chief inspector."
Tricia Hartley, the former chief executive of the Campaign for Learning, heard his speech at the conference.
Reflecting on this, she said: "Tony stole the show, with a vigorous, well-evidenced refutation of Wilshaw's highly publicised recent comments on FE.
"He suggested that Sir Michael's immediate departure on gardening leave for the remainder of his tenure could not come soon enough, in order to stem the damage done to the sector's reputation by his hostile statements."
The government distanced itself from Mr Wilshaw's comments two days after he appeared before MPs.
"We are very supportive of the work done by colleges and distance ourselves from Sir Michael's comments," a source close to Education Secretary Nicky Morgan told FE Week.
Martin Doel, chief executive of the Association of Colleges, also challenged Sir Michael to justify his opinions — which he said had caused "a good deal of consternation and anger" — in a letter shared with the paper.
He wrote: "Quite apart from the conflict inherent in her Majesty's chief inspector being called to give evidence in his official capacity and then providing a personal opinion, even personal opinions require justification if they are not to be regarded as mere prejudice or an unreliable anecdotal judgement."