Ofsted has taken a highly unusual decision to extend its inspection of NCG, suggesting that not all is well at the nation's largest college group.
Two teams of inspectors were sent in last Monday owing to achievement rate concerns, and they had been due to wrap up their investigations by the end of last week.
However, inspectors are controversially going back in for one last day today.
It is understood that the visit has not gone well, and that NCG's current grade two is in danger of being downgraded. Its apprenticeship provision is understood to be of most concern.
This is the largest and most complex FE inspection Ofsted has had to undertake
The group, which is currently consulting on significant redundancies, will be desperate to avoid a disastrous 'inadequate' rating in this area, which would see it booted off of the government's register of apprenticeship training providers and banned from offering the courses.
Intraining, NCG's troubled private training provider arm, also had a visit from Ofsted last week. This inspection ended on schedule and it is understood to have resulted in a likely grade three for apprenticeships.
If the worst happens and NCG is taken off of RoATP, it will be down to the Department for Education to decide whether to stop the group from using Intraining as the sole provider of the group's apprenticeship provision, as happened similarly at Learndirect Ltd.
Just before this body, the largest overall FE provider in the country, received a grade four of its own last year, it set up a separate company – Learndirect Apprenticeships Ltd – to deliver apprenticeships regardless of whether Learndirect Ltd could or not.
Last week's visits to NCG and Intraining were both full inspections, which suggests Ofsted's alarm bells are ringing.
In more usual times, it would only be expected to carry out a short inspection, especially if there were no concerns.
The group was rated 'good' in September 2016, following a five-month standoff during which it successfully overturned a lower grade. Intraining was also given a grade two that June.
However, overall achievement rates at NCG are well below the national average.In 2016/17, the combined overall apprenticeship achievement rate for NCG's colleges was just 55.6 per cent, while Intraining's was 58 per cent.
Both are around 10 points lower than the national average of 67.7 per cent, and lower than the minimum threshold of 62 per cent, according to the latest government data.
And for the all-important 16-to-18 study programmes, NCG was 4.4 points below the national average of 81.5 per cent.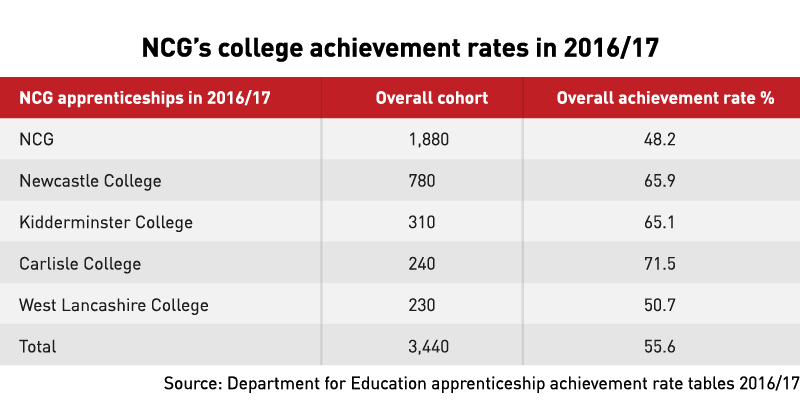 It is understood that Ofsted wanted to reinspect NCG last year, but was unable to analyse the group's achievement rates because "data glitches" absented it from the 2015/16 tables.
"This is the largest and most complex FE inspection Ofsted has had to undertake, involving six colleges and a training organisation," said an NCG spokesperson.
"Given the volume of information, it's not surprising it has taken longer than a standard inspection and a request from Ofsted to extend by one day was agreed amicably."
She said the group would not "pre-empt" the results of an inspection report "by commenting on what it might say".
At the same time as dealing with these inspections, NCG is cutting staff numbers by up to a fifth at Intraining and its other private provider Rathbone Training in an effort to save £3 million, as revealed by FE Week two weeks ago.
The group was further shaken last month when staff at Lewisham Southwark College, a long-distance merger partner, voted to strike over pay.
Staff are due to walk out tomorrow and Wednesday.