An employability course managed by the 'welfare to work' firm A4e has been criticised on Twitter by a former NUS Vice President.
Ed Marsh, former VP for Union Development, has been using the social network to expose numerous shortcomings in sessions delivered by 5E Limited, a subcontractor working on behalf of A4e.
The course, which Mr Marsh described as being "patronising" and "soul destroying", is designed to help people on Job Seekers Allowance (JSA) develop a CV and look for new work.
However, on the first day tutors from 5E Limited were only teaching theory to group because the centre did not have enough computers for them to work on.
Mr Marsh said one tutor refused to look at CVs brought in by four members of the group, and later referred to them all as a "batch of clients".
One tutor, according to a tweet from Mr Marsh, said: "I'm sorry if you think this course is about finding and getting a job. That's the title, but it's actually not that."
In one session the tutor told the group that anyone with a long name should shorten it, because employers "won't want to ring someone if they can't pronounce your name."
Other advice given, according to Mr Marsh, included searching on Google for 'writing a good CV', deleting hobbies such as 'I like to sleep a lot', and removing any contact details for references.
Mr Marsh said there were also suggestions that they should lie on their CV.

On Twitter, Mr Marsh said the group was also told to sign a form on the first day declaring that they had received a health and safety document which had not yet been handed out.
A4e later apologised to Mr Marsh and recommended that he contact 5E Limited about any further problems.
However, other Twitter users who follow Mr Marsh questioned whether A4e should be taking responsibility for the work delivered by 5E Limited.
A4e has since confirmed they will be working with the subcontractor to resolve the problem.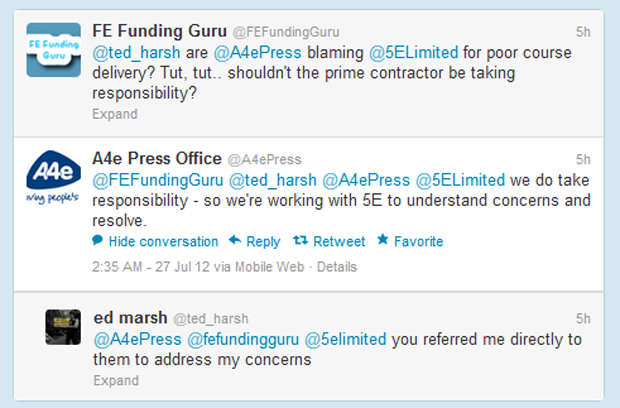 Mr Marsh also tweeted that on the second day of the course he was served pasta, rather than chips, with a piece of fish for lunch. He said the meal was also served without a knife.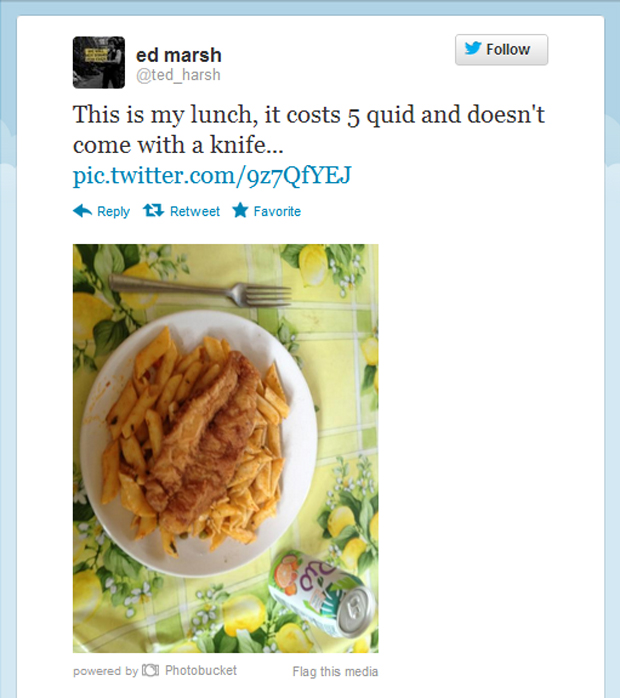 FE Week has reached out to A4e for comment, but not yet received a response.
You can follow Mr Marsh's tweets here.