There is widespread support for renaming the government's traineeships scheme, according to a new FE Week survey, which found that over half of respondents wanted it to called a 'pre-apprenticeship' or 'access to apprenticeship' scheme.
A total of 70 per cent of FE stakeholders we surveyed said traineeships should be renamed, with 29 per cent favouring the 'pre-apprenticeship' label, and 25 per cent choosing 'access to apprenticeships'.
However, only 16 per cent of respondents supported the idea of creating a whole new pre-apprenticeship programme in addition to the existing traineeships scheme.
Judy Taylor, apprenticeship manager at Southend Adult Community College said of a potential rebrand: "'Pre-apprenticeship' clearly promotes the pathway to apprenticeship, and gives value and purpose to a traineeship, rather than just completing a programme with no specific end point."
The survey results come after FE Week exposed severe weaknesses in the progression rate from traineeships to apprenticeships on June 3.
Figures obtained by FE Week through a freedom of information request revealed that just 450 (nine per cent) of 19- to 24-year-olds who finished traineeships in 2014/15 went on to start an apprenticeship, out of 5,200 completions.
The figure was slightly higher for under-19s — with 2,280 (31 per cent) of 7,400 completions progressing — but this still means that overall progression to apprenticeships stands at just 22 per cent.
Concern about poor progression onto apprenticeships was also reflected in the results of the survey, with 78 per cent of respondents agreeing that they saw it as a problem.
Shadow skills minister Gordon Marsden raised the issue at an FE Week parliamentary debate on June 7, where he also criticised the government for failing to raise awareness of the traineeships scheme.
Our survey results supported this — with only nine per cent of respondents saying they felt the government had done enough to promote the programme.
Jessica Rexworthy, head of learning and skills at charity and employer Fair Train, said: "The majority of learners and their parents/carers don't know what a traineeship is.
"The push on marketing campaigns for apprenticeships should be opened up to include traineeships."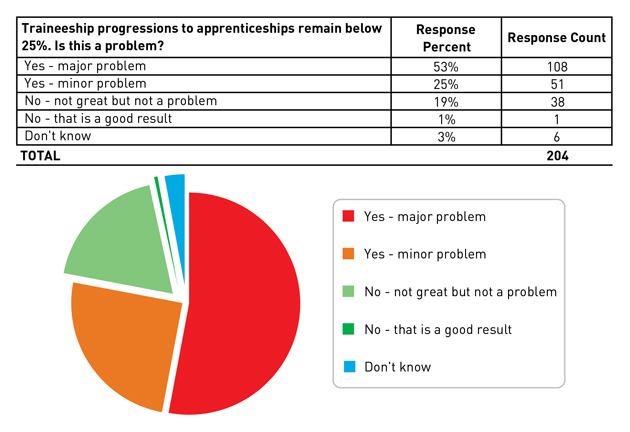 The survey covered a number of issues around traineeships, and received responses from 204 FE Week readers from a range of backgrounds, including independent training providers, colleges, local councils and charities.
Funding proved a topic that respondents were particularly concerned about, with 80 per cent saying the government should create a single funding pot for traineeships, as they have done for apprenticeships.
A further 71 per cent answered that different funding arrangements from the Education Funding Agency (EFA) and the Skills Funding Agency (SFA) make traineeship funding overly complex.
Jim Clarke, chief executive of Key Recruitment and Training, said: "We can only receive funding from the EFA pot which is highly restrictive in growth.
"The SFA continues to fund 16-18 without growth restrictions. However, the EFA funding is far better for cashflow."
The survey also asked participants whether they thought it was a good idea to devolve the funding decisions for traineeships for 19- to 23-year-olds as part of the Adult Education Budget, but only 26 per cent agreed with the suggestion.
In response, a government spokesperson concentrated on funding.
He said: "Traineeships is a programme for 16- to 24-year-olds that spans two different departments' funding arrangements.
"The funding arrangements are in line with the wider funding approach for each age group 16-18 and 19+.
"By fitting traineeships within the existing arrangements it actually simplifies administration and data requirements."