Providers are at risk of being duped into believing they need to pay thousands to become "industry-approved" before they can deliver new apprenticeships for the food and drink industry, FE Week has learned.
A body called the National Skills Academy for Food and Drink has been accused by industry figures of "misleading" the sector with aggressive sales emails and erroneous claims of being "the skills body for UK food and drink manufacturing".
A week ago, the government announced that the Institute for Apprenticeships (IfA) would crack down on "unnecessary" income-generating behaviour.
The NSAFD, which no longer receives public funding as a sector skills council, appears to make a number of bold claims about its status and services.
The NSAFD, which no longer receives public funding as a sector skills council, appears to make a number of bold claims about its status and services
On one sales email seen by FE Week, the organisation warns that unless providers become what it calls "industry-approved" – a status  attained through a payment of £5,000 – they will be "less likely to win business" with a long list of prominent employers – at least one of which claims not to be aware of its inclusion on the list.
The group claims that only "industry-approved" providers can deliver its "industry-approved apprenticeships programmes" (IAAPs), but it appears that these are no different to existing food and drink apprenticeships standards, but with more guidance on how they should be delivered.
The NSAFD also claims that its IAAPs are supported by the government, though the term itself appears to be a marketing label which is not used by any other organisation.
Similarly, the organisation's website promotes an "industry-approved specialist network", and says that if "providers meet additional quality criteria, they will be able to offer Trailblazer Apprenticeships and other kite-marked programme delivery".
In fact, however, any organisation on the Skills Funding Agency's register of apprenticeship training providers is able to offer apprenticeship standards, without the need to meet any "additional criteria."
Bill Jermey, the chair of the Food and Drink Training and Education Council (FTC), accused the NSAFD of being "misleading", and said it was attempting to create a "niche" for itself.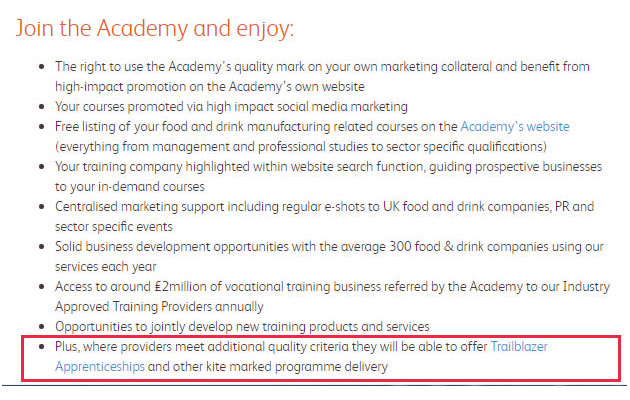 The NSAFD sales email also lists 50 prominent employers, including Branston, Aunt Bessie's, ABP Food Group, and Dunbia, and claimed that "many of these organisations" were involved with "the development of the new food and drink trailblazer standards and the subsequent Industry Approved Apprenticeship Programmes (IAAP)".
It continued: "The IAAPs can only be delivered by industry-approved providers, this means unless you are an active member of the NSAFD and have achieved industry-approved status (which is signed off by members of the trailblazer development groups – food manufacturing businesses) you will be less likely to win business with any of the employers listed above.
"They will choose to work with an industry-approved provider, who has gone through the necessary quality checks and CPD, than a provider who has not."
Mr Jermey told FE Week that "the NSAFD has been making a number of misleading claims about the IAAPs, for example saying that training providers need to be industry approved to deliver trailblazers".
This, he said, "is simply not true".
He continued: "We very much support the IFA's intention to curb this behaviour. It seems to be more about NSAFD making money and carving out a niche for themselves."
At least one of the 50 companies listed, meat producers Dunbia, did not even know it was being used in the sales drive
FE Week understands at least one of the 50 companies listed, meat producers Dunbia, did not even know it was being used in the sales drive.
Bosses at the firm were so incensed at the NSAFD's claims that they complained in an email seen by this newspaper.
Another of the NSAFD's claims, that "many" of the 50 employers had involved in the development of the new food and drink trailblazer standards, has also been called into question, as the SFA confirmed that less than a third – 15 of the 50 – actually had been consulted.
Justine Fosh, NSAFD's chief executive, told FE Week that, by including the list of its business members in the email, its sales team were "highlighting the people we work with, many of whom have provided us with permission to use their logos and names on our website".
She continued: "It is correct in asserting many of the employers we are working with will opt to use industry-approved providers for the delivery of apprenticeships.
"We are very clear in all communication that there are no restrictions on any provider seeking to deliver apprenticeships – providing they are on the RoATP and satisfy the SFA then they deliver.
"Every provider is free to engage with any standard."
However, her claims appear to be contradicted by her organisation's own website, which clearly states that providers would need to "meet additional quality criteria" in order to be allowed "to offer trailblazer apprenticeships".
In an attempt to justify the stiff £5,000 price-tag, Ms Fosh said that the new standards only outline "in a top-level way the knowledge, skills and behaviours required for an apprentice in an occupation" and that they "provide no guidance on the type of training that is required".
"Industry-approved apprenticeship programmes fill this gap," she argued.
The NSAFD had invested £1 million into its development
She claimed the concept of industry-approved programmes was cleared by the government, and said the NSAFD had invested £1 million into its development.
FE Week asked the Department for Education if the concept was indeed government approved, but it was unable to comment ahead of publication.
We also asked if any action would be taken against the NSAFD based on our findings.
A spokesperson said the IfA's draft strategic guidance, published on January 4, was "clear on the need to challenge this kind of practice… [as] our only requirement [to run new standards] is for providers to secure approval to be on the register of apprenticeship training providers."
Paragraph 34 of the guidance states that the DfE has "made efforts to discourage" some "behaviours" from "a few organisations involved in the development and delivery of reformed apprenticeships".
It continues: "These are largely around trying to generate income from offering certain services which are not a necessary part of the system, or trying to secure a particular role for themselves without fair competition."
The IfA will be expected to "discourage behaviour seeking to make a profit by delivering services that are not necessary and do not add value, and work to ensure the system as a whole is fair and consistent with the principles of the reforms".
The example given in the guidance concerns bodies requesting for payment to include providers on a list of approved apprenticeship-assessment organisations, something the
SFA also administers at a national level. Ms Fosh denied that the NSAFD curated such a list.
FE Week understands the government is seriously concerned about a broad range of emerging sales techniques, but that current legislation contains no power to take any formal action.
National Skills Academy also owns AO for mandatory qualification
The National Skills Academy for Food and Drink recently bought an awarding organisation, making it the sole supplier of a new mandatory apprenticeship qualification – and prompting widespread concerns over lack of competition.
The NSAFD bought Occupational Awards Ltd from the now-defunct sector skills council for furniture and wood manufacturing, Proskills, in July 2016.
An article on the skills council's website, dated November 9, claims that the purchase would "allow NSAFD to further support the food and drink industry through the awarding of industry-approved qualifications and focused end-point assessment products and services to support food apprentices".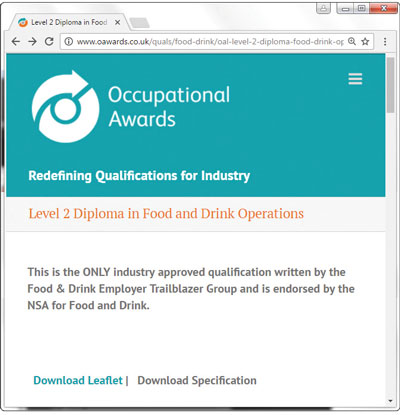 The 'food and drink process operator' and 'food and drink advanced process operator' standards both require a diploma in 'food and drink operations' at levels two and three respectively.
These qualifications, which are regulated by Ofqual, were launched in August 2016 and were only offered through OAL.
OAL's own website (pictured) explains that the qualifications are "endorsed by the NSA for Food and Drink", though it somehow fails to mention any link between the two organisations.
In fact, FE Week could find no mention anywhere on the site that the NSAFD owned OAL.
Bill Jermey, chair of the Food and Drink Training and Education Council, told FE Week that he was worried that NSAFD's ownership of "an awarding organisation with no historical links to the food sector means they are looking to create a closed circle of employers and subscribing providers who are locked in to their industry-approved apprenticeship programmes".
Justine Fosh, NSAFD's chief executive, told FE Week that the need for "at least one assessment organisation able to assess the new industry apprenticeship standards" was the key driver for its purchase of OAL.
"The industry identified as a risk that there may be limited interest in assessing complex industry standards, as few organisations had the internal capability, and there was a risk that few would step forward," she said.
However, a letter from Mr Jermey to the chair of the food and drink process operations trailblazer group, seen by FE Week, outlines concerns from employers, providers and assessment experts about the deliverability of the end-point assessment.
The letter also makes reference to another awarding organisation being put off bidding to become an EPA organisation because of these deliverability risks.
The market in apprenticeship sector kitemarks
Bodies charging providers for "industry-approved" status are common in many sectors, FE Week can reveal.
Mark Dawe (pictured below), the boss of the Association of Employment and Learning Providers, said that he had received "numerous complaints" from AELP members who have been "required to make multiple payments" to feature on various bodies' approved lists.
Sector skills councils running "approved provider" schemes similar to that outlined in our investigation include the Tech Partnership, Cogent Skills and People 1st.
People 1st claims that members of its provider network will "have a commitment" from its employer members to "use you and your fellow accredited colleges/providers as preferred suppliers" in the hospitality and aviation industries.
Annette Allmark, People 1st's director of strategic policy, defended the network, telling FE Week: "People 1st is frequently asked by employers 'how can I tell if a training provider is of a good standard?'.
"Therefore, if we make recommendations, we want to know that providers will deliver a service that employers will value and help them deliver their objectives to boost business productivity."
She added: "Our provider network is open to colleges and training providers, and is endorsed by a panel of leading employers. There is a fee to join the network, but membership is not in any way mandatory."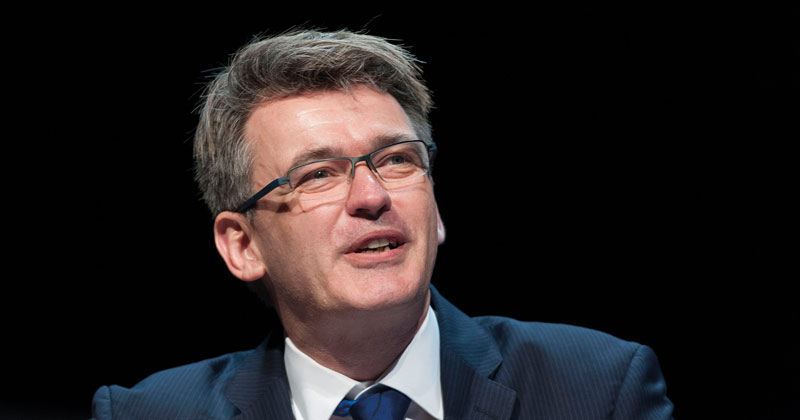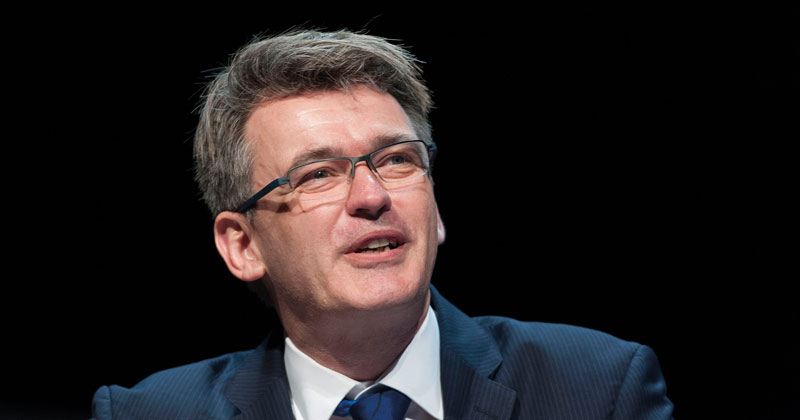 Cogent Skills also runs a quality assured scheme, which gives providers "market access to high-value science industry employers".
When asked to comment on concerns around these schemes, Alex Slater, the body's head of business operations, told FE Week that demand "came from employers asking for quality-assured, sector-specific providers within easy reach, with the knowledge and understanding of the regulation and unique challenges presented to organisations operating in the science industries.
Some schemes may yield a genuine benefit, but there is always the fear that their aim is to create an income stream
"This saves them having to deploy internal resource on what is a significant task."
She added: "Members rates are kept in the low hundreds, as this is a partnership that is run for the benefit of sector employers and to support training capacity around the country."
The Tech Industry Gold standard issued by the Tech Partnership is described on its website as "a quality mark that is designed to help employers choose apprenticeship training providers who have a proven track record in delivering excellent digital apprenticeships".
However, the IT body declined FE Week's request to comment on its provider network.
Teresa Frith, senior skills policy manager at the Association of Colleges, questions the motives of these so-called "industry-approved" programmes.
She said: "Some schemes may yield a genuine benefit, but there is always the fear that their aim is to create an income stream, with little serious thought given to ensuring investors get what they are promised."