Concerns have been raised about a loophole in the government's apprenticeships register after a broker advertised how companies can buy their way on to it.
FE Week discovered the apparent short cut on Wednesday when Yorkshire-based Education & Skills Consultancy put out an advert to sell a provider for between £50,000 and £60,000.
Its heading reads: "Great chance to purchase a provider on the RoATP & RoTO. Better than waiting for the window to open!"
The purchase is likely to be the same as buying an off-the-shelf company with no staff or assets, and its value would simply have been derived from successfully applying to the Register of Apprenticeship Training Providers.
The forthcoming register refresh should close the loopholes
Mark Dawe, the boss of the Association of Employment and Learning Providers, is troubled by the loophole but blamed the Education and Skills Funding Agency for its delay in reopening the register for creating this buying and selling market.
"In its zeal to open up the apprenticeship market, the government played far too loose with the requirements to get on to the register, to the extent that over 700 providers on it aren't delivering and we're seeing opportunistic examples like this of trying to cash in," he said.
"The forthcoming register refresh should close the loopholes and in the meantime ESFA has to maximise the use of its existing powers to terminate agreements where abuses are taking place."
The Register of Apprenticeship Training Providers has been closed ever since the government shut it for review in October 2017, even though it was originally meant to open every quarter.
The government states that organisations listed on the register have been through an application process that "considers due diligence, capability, quality and financial health to assess their capability to deliver high-quality apprenticeship training".
FE Week has however reported extensively on the problems with the application process, and discovered, for example, one-man bands with no delivery experience being given access to millions of pounds of apprenticeships funding.
The register was meant to finally reopen last month with a more robust application process but there is still no sign of it. The ESFA remained tight-lipped when FE Week asked for an update this week.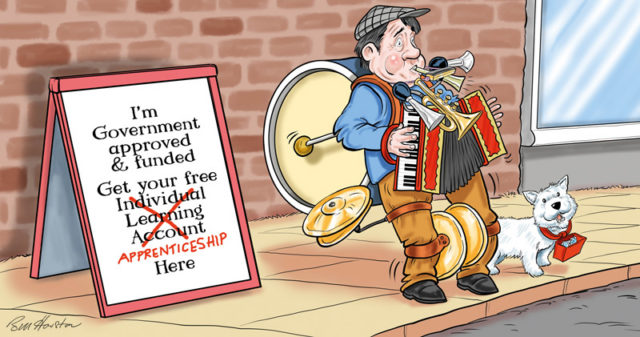 It is this delay in reopening the register that has "created this sort of market where smaller providers who aren't doing much delivery can be sold off", according to James Hart, the managing director of Education & Skills Consultancy.
"I would much prefer an open and transparent system where it is more regular for providers to get on there," he told FE Week.
Mr Hart said selling providers on the register to companies that are not does not break any ESFA rules.
He added that providers must notify the ESFA when there is a change in ownership, at which point it is up to the agency to carry out due diligence on the people taking it over.
The Education and Skills Consultancy advert states: "A great and simple opportunity to purchase a training provider listed as a main provider on the Register of Apprenticeship Training Providers and on the Register of Training Organisations.
"Awarding bodies already in place.
"Offers in the region of £50,000 to £60,000."
I would much prefer an open and transparent system
The value of this provider is bound to only go up the longer RoATP stays shut.
Mr Hart claimed to have received over 30 enquiries just 24 hours after putting the advert out.
FE Week asked how much the cut would be that his firm would take for handling such a deal, but he refused to say.
He did however describe their role as "very much like an estate agent".
A Department for Education spokesperson said: "The ESFA hold an apprenticeship agreement with training providers. In the agreement it is clear that they have a requirement to notify the ESFA if there is a change of provider.
"If providers do not do this then the ESFA may terminate an agreement."
When the register was first launched the DfE described those listed as "top-quality" and the then skills minister, Robert Halfon, said: "We are giving employers the confidence to do business with high-quality training providers."