A former top skills civil servant has turned on "diabolical" government planners, after exclusive FE Week analysis showed there are no approved awarding organisations for over 40 per cent of learner starts on new apprenticeship standards.
Number crunching of government data published this month showed this applies to 1,790 (42 per cent) out of the total number or starts (4,240) so far on the employer-developed programmes.
The revelation provoked scathing criticism from Dr Sue Pember, who stood down as the civil service head of further education and skills investment in February 2013, with the government also admitting there's a problem.
It's a serious issue because apprentices on the standards, which will gradually replace old frameworks, will have to pass end-point assessments for the first time.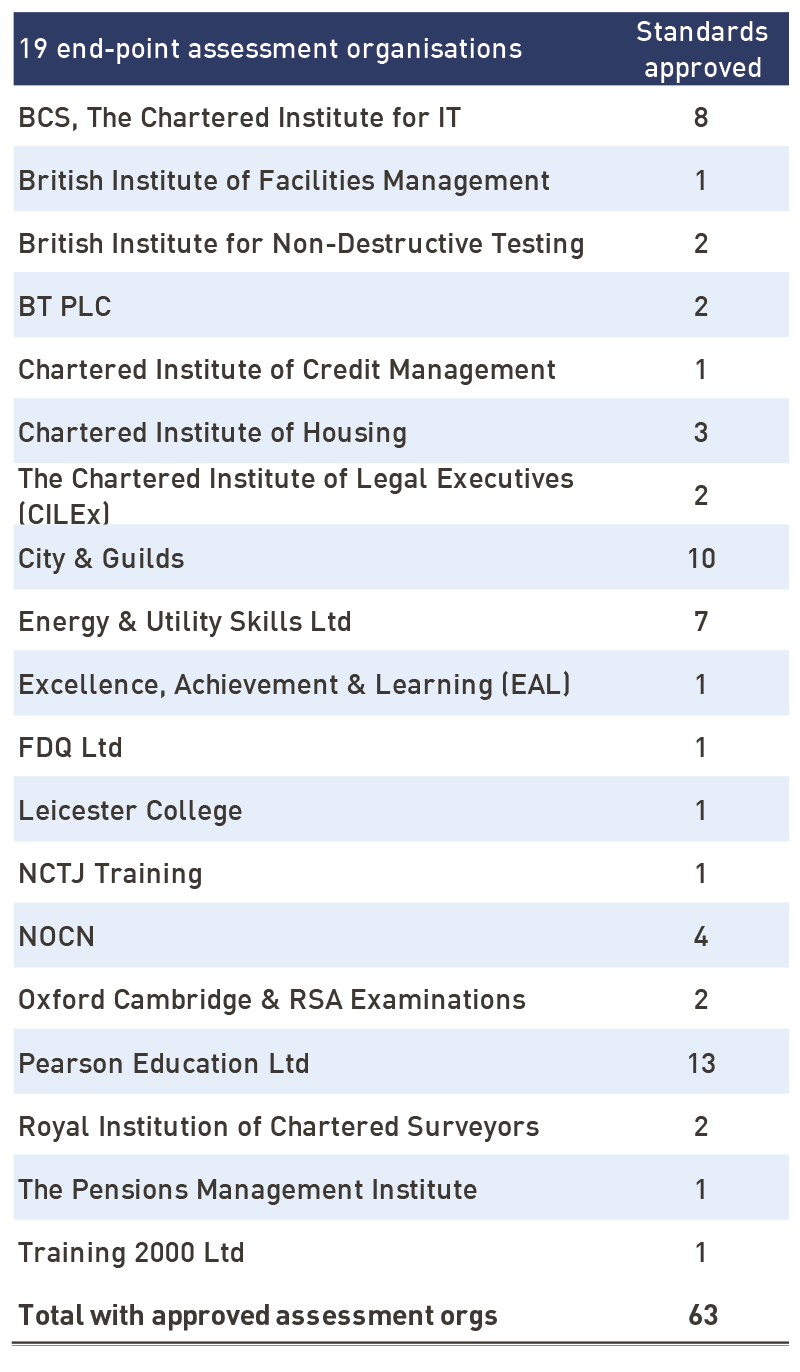 They must be carried out by organisations that have been cleared for the task by the government, on the Skills Funding Agencies register of apprentice assessment organisations.
But as well as the startling figure for learners, our analysis also highlighted 33 standards with at least one start but no-one assigned to run their crucial tests.
Dr Pember said: "It is diabolical to let an apprentice start a programme, without explaining not only what the end test will contain, but where it will be, what shape it will take and who will be the organisation to oversee and manage the process."
The Department for Education admitted on Thursday (October 13) that it is struggling to recruit enough of these assessment organisations.
"We know there is more work to be done to ensure we have the range and breadth of high quality assessment organisations we need," the spokesman said.
"That is why we are working with the Skills Funding Agency to raise awareness of the register and encourage more assessment organisations to sign up."
He added the level of demand for a standard was "one of the factors that will be taken into account when it comes up for review".
"On top of this, we now require all groups of employers bidding to develop a standard to commit themselves to using it," the spokesperson added.
The government has so far fully-approved 147 standards.
However, the October Statistical First Release reveals only 56 standards attracted one or more apprenticeship start by July, despite over 100 being available at the time. And of the 56 standards, a massive 59 per cent (the 33 highlighted above) still has no approved assessment organisation.
The government's struggle to get to grips with the problem is being further exasperated because some of the assessment organisations are only allowed to operate in limited parts of the country.
Training 2000 Ltd and Leicester College are, for example, limited to the North West and West Midlands respectively.
FE Week has also got confirmation that at least two approved assessment organisations for the most popular standard, the level two property maintenance operative – which had attracted 650 learner starts by July – are not yet ready to deliver assessments (see boxout).
Dr Pember, who is currently director of policy for adult learning provider membership body Holex, joined the then-Department for Education and Skills in 2000 as director of adult basic skills strategy, before rapidly rising through the civil service ranks to the role of head of further education and skills investment by 2007.
She worked under ten FE and skills ministers and eight secretaries of state before leaving the civil service six years later.
The Association of Employment and Learning Providers (AELP) annual conference in June saw her previously speaking out on the issue of assessment.
She told delegates at the time: "I think it's really morally wrong to start an apprentice on a programme when you don't know how they are going to be tested at the end.
"You wouldn't start somebody on the equivalent of an A-level without knowing the assessment at the end."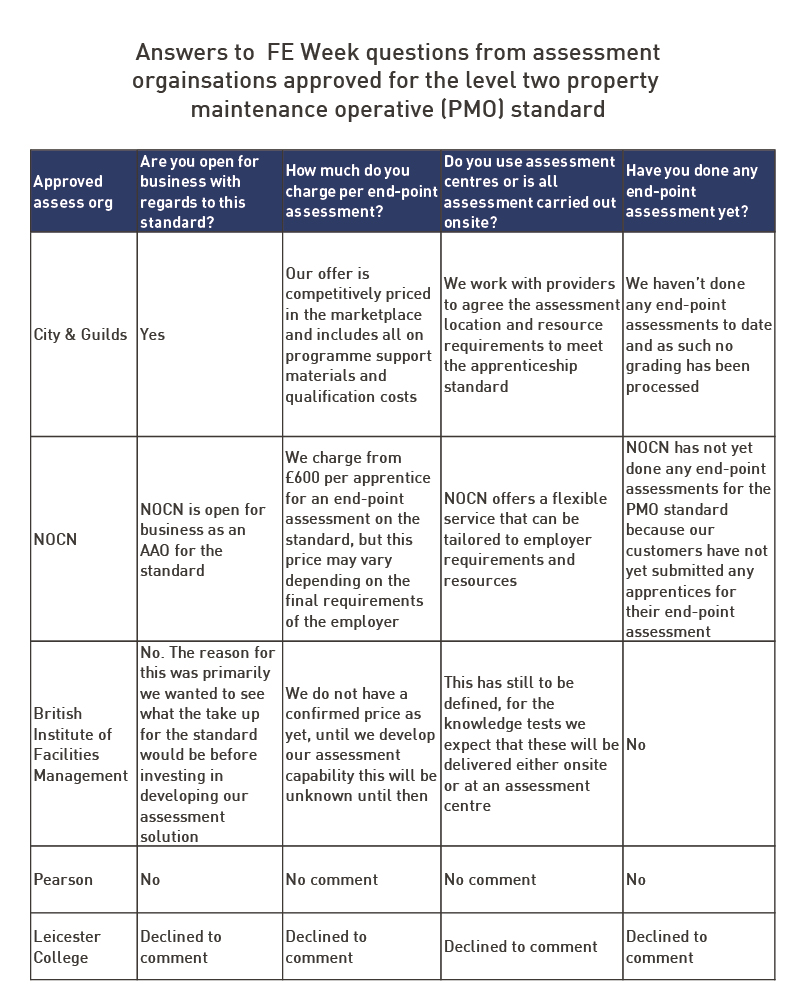 Here's what Dr Sue said in full:
do think it is diabolical to let an apprentice start a programme without explaining not only what the end test will contain, but where it will be, what shape it will take and who will be the organisation to oversee and manage the process.
The learning process around skills acquisition is made up of four parts -instruction/teaching, learning, practice and feedback and assessment.
When you start splitting this up it is not easy to ensure quality, trainers are not able to ensure the trainee is covering the right material and it becomes very ineffective for the apprentice.
Also, there will be a prestige and credibility element to the end assessment organisation that shouldn't be ignored.
No-one will want to spend two/three years following a programme only to end up being assessed by a back street assessment provider who has no credibility with the sector and was only chosen because they were cheap.
The client (the apprentice) needs to know who is assessing before they join that apprenticeship programme.
And then I am worried about the equality issues, for example:
1.   Someone with dyslexia may not want to do a programme if it relies just on written tests, if he or she knew that before they started they would make a judgement on whether the programme was right for them;
2. A single mum may not want to do a programme if it means going away and leaving her children for two days to go to an offsite centre. Again, if she knew this before she started, then she would probably look for another type of an apprenticeship.
I just don't think apprentices are being given the respect they deserve. They will be giving up two/three years of their lives, will be expected to work hard, and for many the salary will be low. They need to know the facts before they start.
If this was HE there would be uproar – "Come to our prestigious university, we don't know how we going to do the end assessment, but it won't be with us and probably it will be with someone you have not heard from of, and by the way you won't be getting qualification from us, but a certificate that's going to come from some government quango, that might not be in existence by the time you have finished your programme!!"