Apprenticeships delivered by colleges fell to just 26 per cent last year, according to analysis by FE Week, and education secretary Damian Hinds has accused colleges of "not winning enough" funding.
When asked by the education select committee last week about financial constraints within the FE sector, Hinds blamed colleges for failing to secure more apprenticeship funding.
"The cash available for apprenticeships is doubling over the course of the decade," he said. "I want FE colleges to be winning more of it.
"They are not winning enough of it today. No one is stopping them winning it, but it is not happening enough and I would like it to happen more."
This is not the first time colleges have been urged to increase their uptake in apprenticeships. In 2015, the then skills minister Nick Boles told the Association of Colleges conference to stop letting private providers "nick your lunch".
Our analysis of starts in the year to July 2018 found colleges' market share for apprenticeships has shrunk from 31 to 26 per cent.
The official statistics also reveal that colleges are particularly struggling to win business in the new world of standards and large levy-paying employers.
They only delivered 19 per cent of all starts with levy-paying employers in 2017-18, while private providers delivered 66 per cent.
And in terms of standards, of the total starts on these new apprenticeships in 2017-18, colleges delivered just 18 per cent of them. Private providers delivered 72 per cent.
"Colleges exist to fulfil their mission, not to make profit"
FE Week approached a number of colleges that have experienced sharp declines in apprenticeship numbers in recent years, and the majority blamed their reduction or the move away from subcontracting.
The rules for subcontracting changed in May 2017, and main providers can now no longer subcontract entire apprenticeship programmes. Instead they must "directly deliver" more than a "token" number of apprenticeships to each employer.
In addition, many providers that were previously subcontractors are now on the Register of Apprenticeship Training Providers and so are able to contract directly with levy-paying employers.
Several colleges also mentioned the impact of the wider apprenticeship reforms in 2017, namely the controversial 20 per cent off-the-job training requirement, which is widely cited as the biggest barrier to apprentice recruitment.
A closer look at individual examples shows how Newham College had 890 non-levy starts last year, but only 40 that were levy funded. And of all of its starts in 2017-18, Newham only did 20 on standards.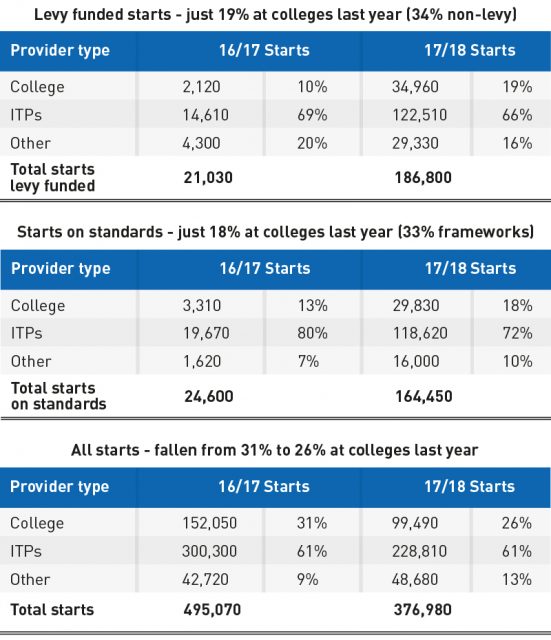 Elsewhere, data for East Sussex College Group shows that it had 1,470 starts last year, of which just 120 (8 per cent) were levy funded. And figures for Croydon College reveal that of its 140 starts in 2017-18, none was on standards.
FE Week contacted all three colleges to try to find out what was stopping them from offering training to large employers and apprenticeship standards, but they did not respond at the time of going to press.
Teresa Frith, senior skills policy manager for the AoC, said that competing for large, national contracts with levied employers is "outside" of colleges' mission to "support specific communities".
"It's possible that some organisations are making large surpluses from apprenticeships (particularly degree apprenticeships) but where colleges are growing their apprenticeship activity, they're spending the revenue on training," she told FE Week.
"Colleges exist to fulfil their mission, not to make profit."
She added: "The main reason for the reduction in colleges' market share is the low levels of non-levy funding allocations which are severely restricting colleges' ability to recruit new apprentices, and this in turn is forcing colleges to turn away employers."
Colleges are, however, attempting to reverse this trend.
The Collab Group, for example, has launched a range of partnerships in an effort to boost the number of apprenticeship starts for its 35 college members.
In March, the group announced a "strategic partnership" with the Association of Professional Sales and developed the "sales academy programme", based on the level 4 B2B sales executive apprenticeship standard.
"We have built a set of innovative training materials to guide and develop the skills of professional salespeople, helping them to be significantly more productive and effective as sales ambassadors for their companies and UK industry," it said at the time.
Collab's chief executive, Ian Pretty, said the group's colleges "will benefit greatly from this partnership".
In February, Collab also partnered up with the UK Parliament to launch a programme that will see its colleges train "25 apprentices to work in the most important buildings of the UK government, including the House of Commons, House of Lords and the iconic Elizabeth Tower/Big Ben".
One month earlier, Collab and its colleges had formed another partnership, this time with the Housing Associations' Charitable Trust. In this alliance, the parties will "collaborate to provide digital apprenticeships to local housing associations".
In the same month, Collab also partnered with Energy & Utility Skills to "connect leading UK colleges with the country's leading energy and utility employers to inspire more learners into industry apprenticeships as they develop a sustainable workforce for a post-Brexit economy".