Invitations to tender for almost £15m of long-awaited European Social Fund (ESF) cash were published today.
Details of the first five areas involved in the first round were unveiled by the Skills Funding Agency (SFA) and ESF (and are available here) — more than four months after the previous 2007 to 2013 ESF contracts closed on July 31.
They provide confirmation of a series of exclusive FE Week articles that have outlined the timeline for the tendering process and also where in England the contracts would be heading (see main image above).
But today's tender document shows that while invitations to tender close in 42 calendar days on January 18, that means just 27 working days excluding weekends and public holidays.
And then, after tenders totalling £14.86m have been awarded on March 30, winning bidders will have only 11 working days before delivery commences from April 14.
---
| | |
| --- | --- |
| Task | Deadline |
| Publication of invitations to tender (ITT) | December 7, 2015 |
| ITTs close | January 18, 2016 |
| Notification of tender results | March 30, 2016 |
| Day 1 mandatory standstill period | March 31, 16 |
| Day 10 mandatory standstill period | April 11, 2016 |
| Contracts issued from… | April 12, 2016 |
| Delivery commences from… | April 14, 2016 |
---
However, the document indicated that the application process could still be subject to change when it said that the SFA "reserves the right to modify, amend or provide further clarification regarding the on-line tender documents at any time prior to the deadline for completion".
"The SFA will notify you [providers] either by direct communication or as a broadcast message on the online message board," it added. "Where such modifications constitute a significant change, the SFA may, at its discretion, extend the deadline for completion of the documents."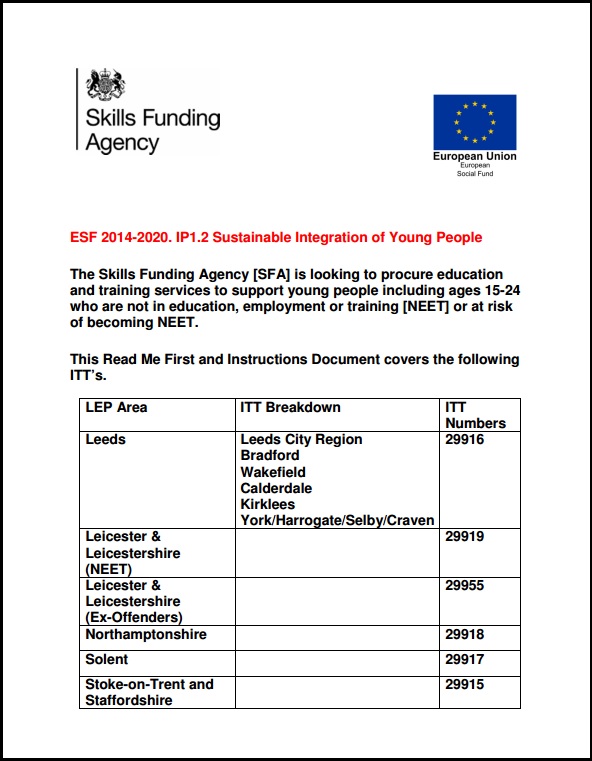 It was exclusively revealed by FE Week on Friday (December 4) that the local enterprise partnership (Lep) areas that the invitations to tender would go to included Stoke-on-Trent and Staffordshire, and Solent (covering the Isle of Wight, Portsmouth and Southampton).
The other Leps involved, as confirmed today, were Leeds City Region Enterprise Partnership, Northamptonshire Enterprise Partnership, and Leicester and Leicestershire Enterprise Partnership.
Today's SFA document revealed that the biggest single contract is for Stoke-on-Trent and Staffordshire, at £6.5m.
There would, it stated, be six contracts for Leeds City Region sharing £4m funding, while two separate contracts for Leicester and Leicestershire will be worth £2.45m and £909k respectively.
The contract for Solent will also be worth £693k and for Northamptonshire £300,000.
It comes after an SFA spokesperson told FE Week on Thursday (December 3) that "the second set of invitations to tender are scheduled to be launched on [Monday] December 14".
"The procurement programme is flexible and when we are in receipt of agreed specifications from local enterprise partnerships (Leps), we will process and launch them in appropriate sets, at regular time frames," she added.
It follows another FE Week exclusively on November 10, which revealed how the SFA was planning to run a "sequence of procurement" for handing out £650m of delayed ESF cash, which must be finished by the end of September next year at the very latest to allow a minimum delivery period of 18 months.
The delivery period, up to March 2018, was determined with ministers unable to say that the SFA would oversee anything other than apprenticeships beyond then.
---
Local enterprise partnership
Invitation to tender referemce
Number of contracts
Total amount

of ESF

Link to tender

documents

Leeds City Region Enterprise Partnership
29916
Six (one for each area)
£4m
Click here
Leicester and Leicestershire Enterprise Partnership
29919
One
£2.4m
Click here
Leicester and Leicestershire Enterprise Partnership (for ex-offenders)
29955
One
£900k
Click here
Northamptonshire Enterprise Partnership
29918
One
£300k
Click here
Solent Local Enterprise Partnership
29917
One
£693k
Click here
---