— 'I have no idea — or if I had an idea I'm not going to share it' Skills Minister tells FE figures
— Former SFA director David Hughes tells of worries about employers policing employers
Skills Minister Nick Boles told key FE figures that he had "no idea — or if I had an idea I'm not going to share it" about how big the Institute for Apprenticeships should be to police employers once reforms took effect.
At a Policy Exchange round-table discussion, sponsored by the Learning and Work Institute (LWI), Mr Boles was tight-lipped as to how the employer-led body, that is due to be fully operational in just over a year, would oversee the new system.
He was asked by FE Week, which was granted exclusive reporting access to the event, how big he expected the institute to be in order to police the reformed apprenticeship system of thousands of new standards, 600,000 starts a-year to hit the government's 3m starts target, 1,000 or more providers and half a million employers.
Mr Boles said: "I have no idea — or if I had an idea I'm not going to share it with you."
Among those at the roundtable event, in London on Thursday (January 21), was LWI chief executive David Hughes, who told of his grave concerns that government would step back from a "policing" role for the institute to step in.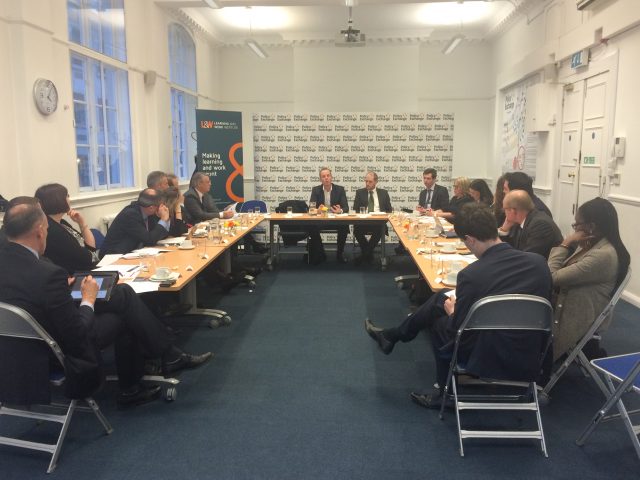 "The idea that employers will police themselves is nonsense. That really worries me," he said.
Mr Hughes, who previously had responsibility for apprenticeship funding as a Skills Funding Agency national director, added: "It worries me because the employers that want to game play will ignore those that want to do it right. That's what history shows us over the years."
Plans for the new apprenticeships institute were announced as part of November's spending review and autumn statement, which said the government would "establish a new employer-led body to set apprenticeship standards and ensure quality".
It would be "independent of government and will also advise on the level of levy funding each apprenticeship should receive".
The round-table discussion focused on apprenticeships quality and featured LWI plans for an apprenticeship charter, first mooted in the FE Week Annual Apprenticeship Conference last year, to act as an employers' quality mark.
Mr Boles described the new apprenticeships institute as "a body that has quite a narrow remit but has very, very deep power within that remit".
He added: "The way the institute is set up and the processes that it will be running will be ones that should ensure that collective policing of self-improvement."
Mr Boles did reinforce the idea that the institute "is not a body that is constantly subject to directions by ministers and the latest whims of the latest politician".
He said: "We will be bringing forward clauses in the Enterprise Bill that will set up the new Institute which will explain, and I hope clarify to everybody's satisfaction, that that is exactly what it will be."
---
Editor's comment
Boles bottles it
'I don't know, or if I did I wouldn't tell you' — it's quite a statement for Skills Minister Nick Boles to make to FE Week readers.
And to be clear, our presence at this exclusive round-table had been cleared with him.
So it's disappointing to hear his refusal to give straight answers to simple questions about apprenticeship quality.
As a holder of public office, he cannot simply bluster away such questioning and nor should he want to considering the question asked could well be key to paving the way for standards. Employers and providers are understandably anxious about the shift from frameworks — and on page 5 there's just more evidence of this.
So if the Apprenticeship Delivery Board serves just one purpose then it would be most helpful if that purpose were to get Boles to be more forthcoming.
David Hughes is quite right to air concerns about giving employers the job of policing employers. We'll just have to wait and see if it's a view heard by Boles.
And while the minister may well not want to share his views with the public, the sector would like to share its views with him on this with a consultation — it might just be the only hope of slowing down the mad dash to launch the Institute for Apprenticeships.
Chris Henwood
chris.henwood@feweek.co.uk