Colleges have failed to take up the apprenticeships challenge laid down a year ago by former skills minister Nick Boles – with figures showing the proportion delivered by them has fallen significantly.
Mr Boles urged delegates at last year's Association of Colleges conference to stop letting independent training providers "nick your lunch".
He also challenged colleges to go from delivering a third of all apprenticeships to two-thirds.
Yet despite this, the proportion of all apprenticeship funding going to colleges has dropped from 37 per cent in 2015/16 to 32 per cent in 2016/17, according to latest Skills Funding Agency allocations.
Colleges were allocated £564,697,386 for all apprenticeships this year, compared to £1,175,506,126 for other providers.
While the college cash figure is 7 per cent higher than the same time last year, the Skills Funding Agency automatically set 2016/17 allocations 19 per cent higher for adult apprenticeships.
So, although actual delivery figures for 2015/16 has yet to be published, this is likely to mean colleges did not use all the funding they were allocated.
And of the £305 million extra cash allocated for apprenticeships this year, just £35 million, or 12 per cent, has gone to colleges.
And, shockingly, some colleges' allocations have shown a massive drop compared to last year.
The figures for 19+ apprenticeships are even more damning, with colleges representing just 30 per cent of total allocations – a drop of six per cent from last year.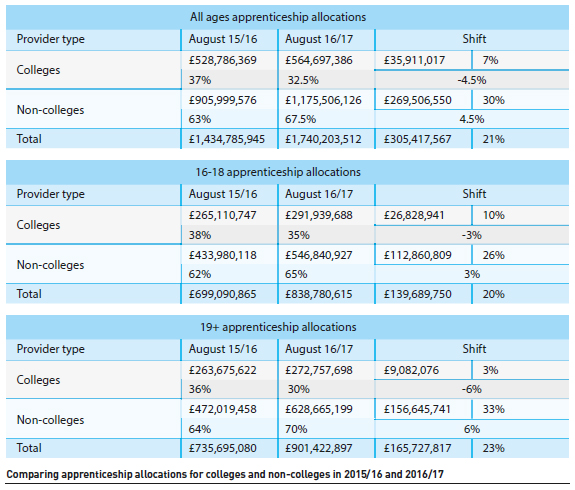 Colleges were allocated £272,757,698 for this age group as of August this year, compared to £628,665,199 for other training providers.
Astoundingly, a number of colleges still have only a tiny proportion of their allocations given over to 19+ apprenticeships.
The worst offender is Kensington and Chelsea College, with an allocation of just £79,324 – down 26 per cent on last year.
Its 2015/16 adult apprenticeships allocation of £106,533 was just 3 per cent of its adult skills budget for the year.
Colleges' performance on 16 to 18-year-old apprenticeships was slightly better, with them representing 35 per cent of the total allocations – although this was down from 38 per cent last year.
Mr Boles' speech was not the first such appeal by a minister speaking at AoC conference.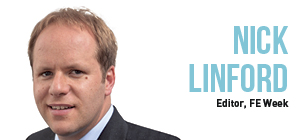 The then economic secretary to the treasury, John Healey, urged college delegates 13 years ago to be "more active" in forging links with business, complaining the FE sector was too often a "passive recipient" of decisions made by the government to improve training.
David Hughes, AoC chief executive, has now defended colleges' poor take up of apprenticeships.
"Colleges are big organisations and there's always going to be a degree of cautiousness about suddenly shifting your business into new areas," he said.
Colleges were particularly interested in "the technical, professional stuff, where you need off the job, where you need kit, facilities, gear, as well as doing on the job", he said.
He added: "How that fits with the skills plan I think is really interesting and I think that's where our members are really focusing."
Several college allocations for 2016/17 were not listed in the Skills Funding Agency list, so a year-on-year comparisons could not be made.