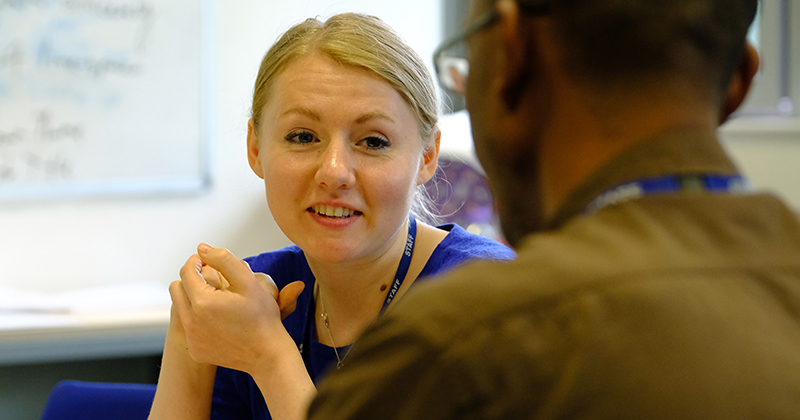 When it comes to developing their careers, more teachers and trainers in further education are opting to gain QTLS status. Here three of them explain how it's enhanced their practice, as well as their prospects.
Qualified Teacher Learning and Skills (QTLS) status is the badge of professionalism for practitioners in the Further Education and Training sector, conferred by the Society for Education and Training. It offers participants an opportunity to develop their teaching practice, gain recognition for their skills, and widen their career prospects, and its parity with Qualified Teacher Status (QTS) also allows those who achieve it the flexibility to teach in schools. But what do teachers who've gained the status believe it's done for them personally?
Opening up career progression
Tom Hardy completed his PGCE in 2017. When he took a new role in a Pupil Referral Unit at  Grimsby's Phoenix Park Academy, both he and the school had one eye on his professional development.
"Senior management said they saw additional opportunities for me, and that getting another qualification would help me progress," he says. "Some roles require you to have QTS or QTLS, so it was a necessity."
He chose to undertake QTLS – a six-month 'professional formation' that required him to build an online portfolio to benchmark his practice, create a professional development plan, record his CPD, and reflect critically on the development of his teaching.
It was QTLS' practical focus that appealed to Hardy: "I could have taken the QTS route, but QTLS suited me better. In my environment, I knew it would be beneficial to build a profile of the students, reflect on my own practice and think about how I could improve.
"And now I've achieved it, the school is exploring additional opportunities and responsibilities for me."
Gaining professional recognition
For Jeminiyi Ogunkoya, Qualifications and Development lead for disability and mental health organisation Certitude, QTLS offered a way to gain recognition of her professional status and commitment to developing her own and others' practice.
"I need to set an example in terms of how I measure the practice of the teachers, trainers, and assessors I work with," she explains. "My organisation needs someone who knows how to carry out teaching and learning training, and develop the staff.
"Through QTLS I was able to reflect on and align my own practices with the needs of my learners. Now I know that whatever I am doing is in line with the [professional] standards.
"I recently had an inspection rated Outstanding. When my tutors and trainers come and shadow me, they can pick up on good practice. Through standardisation, I can tell them, 'this is how we're going to share it.'
Building confidence, benefiting learners
Liam James, Sports Lecturer and Course Co-ordinator at Weston College in Weston Super Mare, says that QTLS not only boosted his confidence and skills, but also had a positive impact on his learners.
"It made me reflect on how I teach," he says. "There were things I was doing just because I'd learned them in teacher training, but having that chance to step back and think helped me to adapt each session, because not everyone learns in the same way."
"Now I'm always discussing ideas, trying to be a bit more innovative and make things better suited to the learner."
James has also applied that approach to the coordination of the course as a whole. "I've raised my standards and the culture to a more professional level," he says. "Now more employers want to work with us, and the feedback we receive when our learners go into the industry is that they are ready for work."
All three professionals say that getting QTLS has improved their practice, benefitted their learners and had a positive impact on wider organisational culture.
"I'm giving a better service to the students now," says Hardy. "They're more comfortable in the learning environment, and making more progression."
Ogunkoya encourages anyone considering QTLS to take the plunge. "You'll develop your knowledge, and help the people you work with to develop theirs. You will not regret it."
For more information about undertaking QTLS, visit set.et-foundation.co.uk/qtls. Registration is open now.