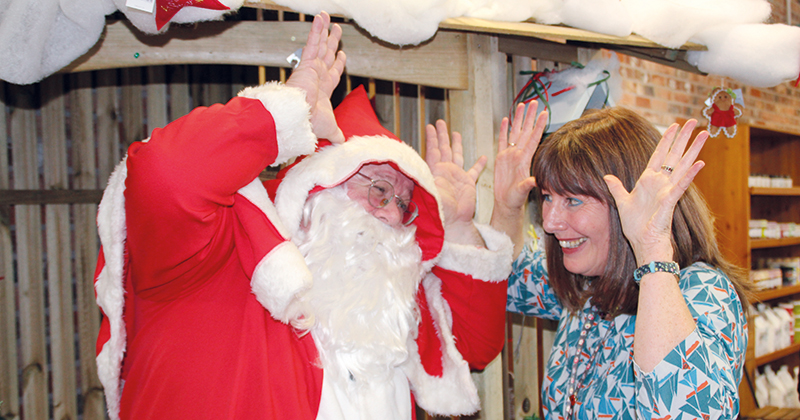 A college has run a workshop to help people working as seasonal Santas and elves understand children with communication difficulties when they visit grottos over the festive season, reports Samantha King.
This year, Santas and elves across Shropshire could attend a 2.5 hour Makaton workshop hosted at the Derwen College in Oswestry, to help break down communication barriers between children, Saint Nick and his helpers.
Makaton is a language programme that uses signs and symbols to help people communicate, and is designed to support spoken language by providing visual clues. It is commonly used by people who have no speech, or unclear and limited speech.
The Get Santa Signing workshop was run by the college's head of speech and language therapy Julie Hawkins, who is also the senior Makaton tutor, along with fellow practitioner James Worthington.
"This is the first year that Derwen College has run a Christmas Makaton workshop," Ms Hawkins said. "We believe that by learning a few simple signs, every Santa and elf can communicate effectively with all children, ensuring that the grotto experience is truly special for children with learning difficulties and disabilities."
Costing £10 a head, the workshop covered a range of Christmas-themed signs and symbols, as well as teaching participants the signs to Shakin Stevens' Merry Christmas Everyone, which they performed at the end of the session.
A total of 16 Santas and elves staff took part in the workshop, with attendees including teachers from local schools, college staff and workers from a nearby charity, Hope House children's hospice.
The money collected from the event will go back into the college to support students with learning and communication difficulties.
"The workshop was great fun and offered a bit of extra help for grotto staff, making sure that Father Christmas is never lost for words," Ms Hawkins added. "We hope to do it again next year."