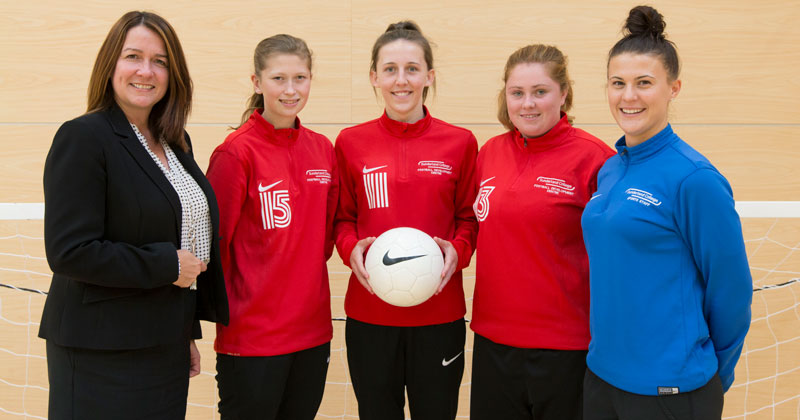 A college referee campaigning to get more women into football has taken her crusade to Westminster, reports Samantha King.
Sunderland College's sports development officer, Lucy Oliver (pictured top right), was invited to speak at the House of Lords through her involvement with Women in Football – a group of professional women with strong links to the football industry, which celebrates its tenth anniversary this year.
The group counts among its members Dame Heather Rabbats, former non-executive director and board member of the Football Association, and Eva Carneiro, Chelsea FC's former doctor, who were both in attendance to encourage support for the diversification of football.
"It is the aim of the FA to double the participation of women and girls in football by 2020, and in order to do that, we need the full weight of the government behind us," Ms Oliver explained. "This is the first time the issue has been brought before the House of Lords and we hope that this has created a real buzz around the topic which will provide a catalyst for further change and ultimately, equality in football."
Closer to home, Ms Oliver – who has been a referee for 13 years and is an FA ambassador – has introduced a number of initiatives to build the confidence of young women taking part in sport at Sunderland college.
Since her appointment as sports development officer three years ago, she has brought in a Women's Football Leadership Programme and the Women & Girls Football Hub as part of her role to develop the college's sporting offer.
"We have to change the way people view male-dominated sports from an early age, so it's absolutely integral to educate and engage with young women at the earliest opportunity," she explained. "The work I do at Sunderland College is an important aspect of Women in Football's campaign, and it means we're giving the younger generation a chance to cast inequality and under representation in football to one side."
"We have come a long way in football in terms of promoting female participation and challenging gender stereotypes, but we still have a long way to go before we can honestly say the issue has been fully tackled. One day, it will seem ridiculous that it was even considered unusual or controversial for women to be involved in football."