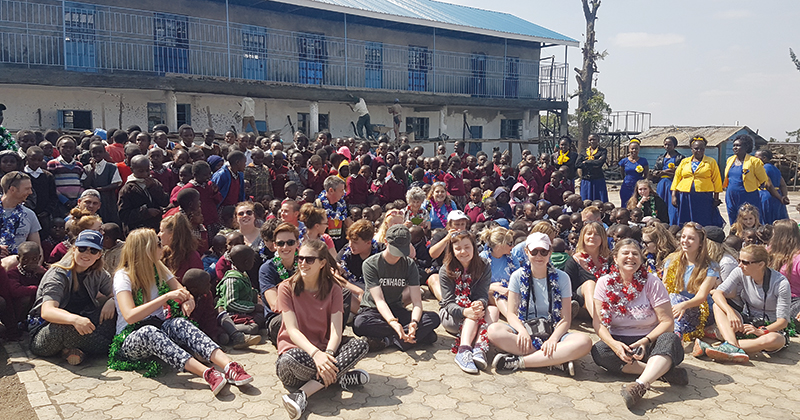 After 20 months of fundraising, a Sussex college has raised more than £82,000 to help build a school in one of Kenya's poorest areas, reports Samantha King.
The new Walk Centre Primary School in Nakuru – one of the largest cities in Kenya – has been a long time in the planning, but finally came to fruition with the help of Chichester College.
After running regular volunteering trips to the area during the summer, the college's student experience manager, Lisa Humphries, made a commitment to help a local education charity build a school for children living in Nakuru's slums and rubbish dumps.
"I sat down and promised them £70,000 to build a school and then I had to go and do it. There's a group of staff that visit regularly, and when we came back we won everyone over," said Ms Humphries. "Then Brexit happened and building costs happened, so we actually had to raise £80,000."
The whole college got behind the project, with fundraising events ranging from skydives, cake sales and a Four Peaks challenge, to selling roses on Valentine's Day.
One of the more unconventional efforts was a sponsored fire walk, which challenged 24 volunteers, including the college's executive principal Andy Green, to walk barefoot across hot coals.
"We knew it was going to be a massive challenge, but we are all about changing lives through learning, and what better way to do that than provide a permanent school that will change the future for a generation of Kenyans," Ms Humphries explained.
One of the new school's 10 classrooms is named after Josh Skinner, a Chichester College student who died in 2005.
His family donated money to the fundraising effort through the Josh Skinner Memorial Fund, and his parents visited the school in Kenya along with college volunteers to help paint the classroom's walls.
Alongside its classrooms, the brick-built school in Nakuru has an office, a toilet block and a school hall, and it will be the first proper building many of its new pupils will have set foot in.
The launch of the new school was attended by the city's minister for education, local families and headteachers from government public schools, who will help teach at the new primary, while the Chichester College volunteers were guests of honour.
Alex Maina, founder of The Walk Centre, said: "Lisa and I talked about what I would like to see happen with the centre, and I told her I'd like permanent classrooms – built of brick, not tin. I'd like to develop the centre into a school to help more children, but I didn't think it would be possible to raise the money.
"She said 'we can do that' and now it's like a miracle. We can't say thank you enough."