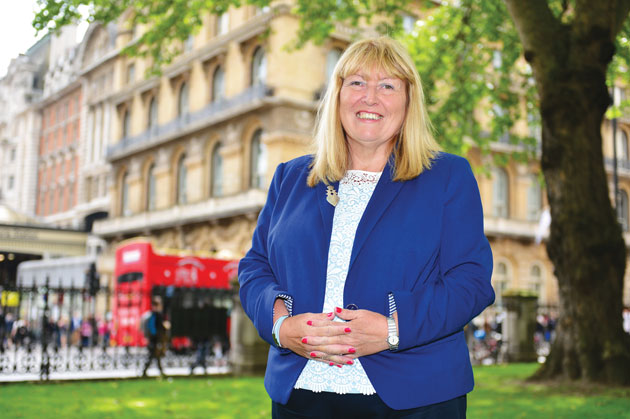 FE college principals have again fared poorly in the Queen's honours list, with only three being recognised for their contributions in a "disappointing" outcome for the sector. 
Dr Sue Pember, former top skills civil servant who is now director of policy at membership organisation for adult education providers Holex (pictured above), said that although it was "fantastic news" for those who received an honour, it remained "disappointing that there were so few FE staff recognised this time".
She told FE Week: "Going forward we should try to ensure that more are nominated. We have many fantastic and worthy staff whose work should be acknowledged and it is on us to encourage senior staff and governors to put forward names of those who go way past the call of duty. 
She added: "We need to collectively pro-active and, when we see good work, think about the nomination systems and follow the process."
Mike Robbins, principal of Bridgwater and Taunton College, will receive an OBE and two sixth form college principals will receive an MBE, Steve Frampton at Portsmouth Sixth Form College and Mary Quinn at Stourport High School and Sixth Form College.
Mark Malcomson, who leads the adult education provider City Lit since May 2011, came out on top with a CBE for his work – but the sector saw no knighthoods or damehoods at all.
The meager collection of FE leaders echoed the outcome of the Queen's birthday honours in June, which saw no general FE college principals in England named in the list and no top awards for the sector.
The lack of recognition stood out against 2015's birthday honours, which saw the principal of City and Islington College, Frank McLoughlin, receive a knighthood.
And last year's New Year's honours were also more successful for FE, bringing a knighthood for former FE commissioner Dr David Collins and a CBE for former Association of Colleges chief executive Martin Doel.
This time last year more than 20 sector-related figures received awards and the same number were recognised in June's birthday honours list – compared to just 12 for the New Year's list for 2017, despite the number of people being honoured overall (nearly 1,200) remaining unchanged.
The latest honours list follows considerable changes to the machinery of government in the summer, when the Department for Education took over responsibility for FE, skills and higher education.
Hence, these are the first FE honours in nearly 10 years that DfE has compiled on its own for the Cabinet Office.
Another disappointing result for FE was that no junior college staff, such as lecturers, or staff at independent training providers were honoured at all this year.
The New Year's honours list for 2016 brought prizes for less well known figures across the sector, such as York College's head of maths Margherita "Miggy" Biller, and Donald Graham, the vocational programme manager at Foxes Academy, a specialist college for 16 to 25-year-olds with learning disabilities in Minehead, who both gained MBEs.
However, governors appear to be skirting this decline, with Professor Mary Dunning, former governor of Tyne Metropolitan College, receiving an OBE for services to further and higher education and the community in the North-East of England this year; and Kenneth Andrew John Barrass, lately chair at Rotherham and North Nottinghamshire College; Jennifer Foote, company secretary and general counsel at The Manchester College (UK LTE Group) and chair of the National Clerks Network; and Sara Kibel, governor at the Westminster Adult Education Service all being awarded MBEs.
A similar situation occurred in the Queen's birthday honours this year, when Margaret Serna, chair of Lincoln College, received a CBE, while Josie Teasdale, lately chair at Barnsley College, was given an OBE as was Mark White, chair designate of Stockton Riverside College. Keith Brown, College of North East London chair, also got an MBE in June.
There were 69 honours relating specifically to schools in England in the New Year's honours list for 2017, exactly the same number as there were last year.
Analysis of the 12 honours for FE in England, and full list below