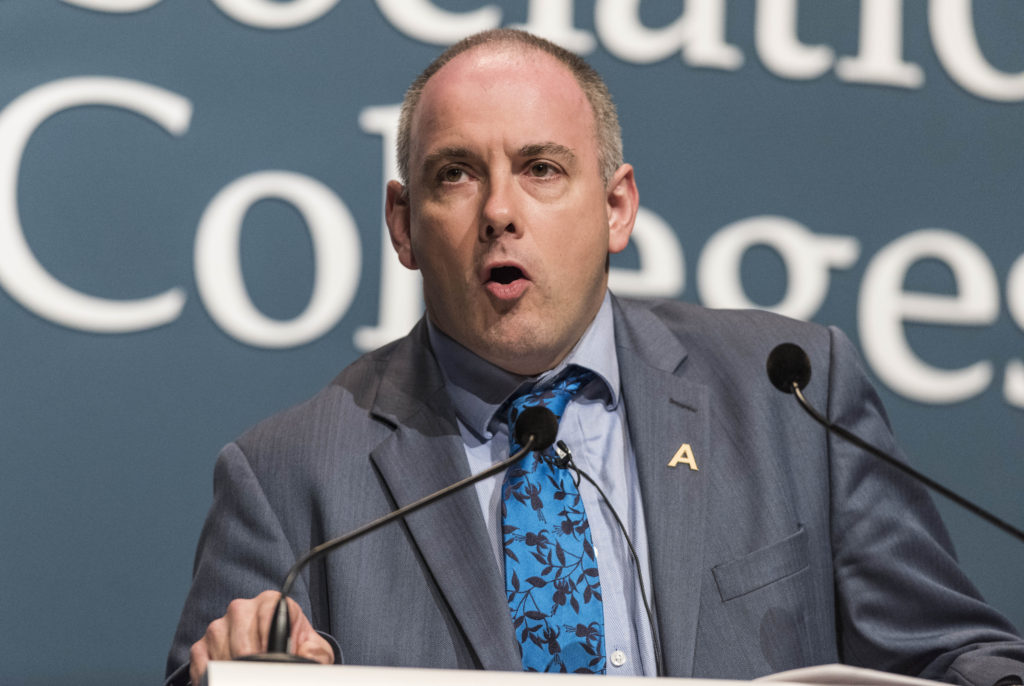 The achievements of the FE sector are a cause for huge celebration, apprenticeships and skills minister Robert Halfon has told college leaders.
He was upbeat in a speech this afternoon to the Association of Colleges annual conference, in Birmingham, stressing that every town should be proud of its college.
Mr Halfon, who was given the ministerial brief in July, said he was fed up with people talking down their local FE hubs.
 "We should be celebrating our FE Sector, celebrating our principals, governors, teachers, and students," he continued.
"We should celebrate the fact that FE colleges can help so many of those on low incomes get the qualifications they need."
The Tory Harlow MP spoke glowingly about his local college.
He said: "I'm proud to say that my views have been shaped by my own local college in Harlow over the years since I was elected as their MP.
"I have been inspired by the transformative effect the college has had on the community itself.
"I believe that colleges are not only beacons of education, but also civic institutions at the heart of our communities.
"That is why I have visited Harlow College 50 times since 2010, and why I intend to visit many more."
Looking at the national picture, he added: "We should be proud: Out of 385 colleges; 19 per cent are outstanding, and 61 per cent are good.
"But even more significant are the statistics showing the destinations of adult students who complete FE courses: 64 per cent get jobs, 20 per cent go into further learning, and 4 per cent go on to university. 
"Now what I want is for colleges to be at the front of queue as providers for employers [of apprenticeships]."
Shadow skills ministers Gordon Marsden earlier painted a contrasting picture.
He told delegates: "The decline of the financial health [among colleges] has been quicker than many expected. Many are under pressure.
"There is so much potential in adult skills and lifelong learning, but still it seems this government is not doing enough to help."
He referred to FE Week's recent successful campaign for more apprenticeship funding, but said the wider situation was still uncertain.
"With the dire situation for some colleges, as well as area reviews, mergers remain high on the government agenda," he said. "Now we have insolvency [for colleges] on the agenda."
He warned that any resulting closures could result in students having to travel much longer distance to access post-16 education.
New FE Commissioner Richard Atkins CBE also delivered a keynote speech.
The former Exeter College principal said: "I want as many colleges as possible to be good or outstanding, and every time my team is involved in area reviews or interventions, the ultimate aim is to help establish as many high-quality institutions as possible."
He indicated that he will be on the side of the sector through his interventions as FE Commissioner.
He said: "I'm not a civil servant. My role is to provide independent advice and guidance. We want to work with you. We're kind of 'how did it happen' people, 'what can we do to put it right'?
But he said: "It really is important that you learn the lessons and keep talking with people from other colleges here and learning from them."
"The pressure to work together for communities is going to continue. If you do think you've got through it [area reviews] unscathed and can now continue in splendid isolation, I would caution you against this."
His overall view of the sector was thought positive, and he said: "Most colleges are doing well. I do not believe the sector is in a complete mess. Sometimes they have financial challenges, some many other challenges, but most are doing well. I think that's an important, positive message."