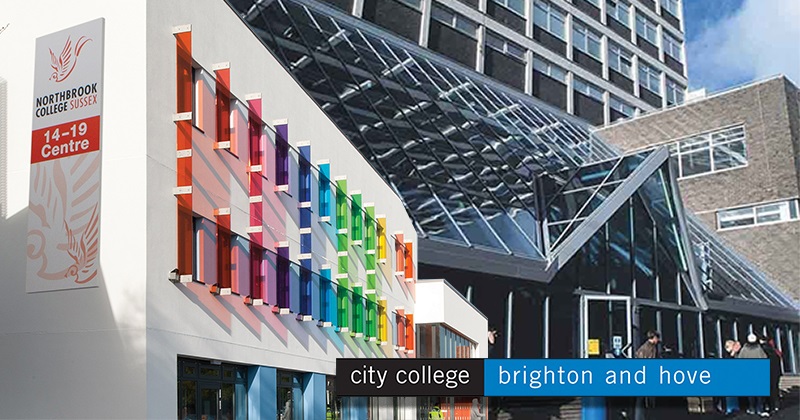 Plans for a merger between two Sussex colleges that aims to boost apprenticeships and higher level skills in the region have been unveiled.
The link-up between City College Brighton and Hove and Northbrook College is one of the recommendations to have emerged from the Sussex area review of post-16 education and training.
The two colleges are set to join forces in March 2017 under the name the Metropolitan College, according to the merger document.
Consultation on the proposals opened today, and will run until November 17.
The merged college will "place apprenticeships and work-based learning at the heart of what we do" and "develop a range of vocational specialisms, at level 3 and above, which link to local economic priorities", the consultation document said.
Nick Juba, chief executive of City College Brighton and Hove, and Sue Dare, principal of Northbrook College, said: "The Metropolitan College will offer clear routes right up the educational ladder providing opportunities for every young person or adults across the city region to gain the knowledge and skills they need to succeed."
Northbrook and City College's chairs of governors, Ian Lowrie and Julie Kerney, said the newly merged college would be the "engine room of the local economy".
City College, which was rated good overall at its most recent Ofsted inspection in June 2011 has around 8,200 learners of whom 700 are apprentices, according to the consultation document.
And Northbrook, which was also rated good at its most recent Ofsted inspection in October 2013, has more than 10,200 learners, of whom around 1,800 are apprentices.
The proposed name for the new institution, which was chosen "to reflect the combination of people, ideas, culture and place that the new organisation will serve", is also being consulted on.
A spokesperson for Northbrook College told FE Week that the colleges may continue to use their existing names "where this is important to local communities".
The spokesperson said that the merger would not affect the colleges' curriculum offer for 16- to 18-year-olds, "but there will be a single offer to employers for apprenticeships".
The Sussex area review was part of the first wave of post-16 education and training area reviews, and had its first steering group meeting on November 5.
FE Week understands that the review completed in May, but the final report into the review – including its recommendations – has not yet been published.
The planned merger between City College Brighton and Hove and Northbrook College comes after FE Week reported that Brighton and Hove council completed its own area review of post-16 education and training, including school sixth forms, earlier this month.
The main recommendations from that review, which covered City College Brighton and Hove but not Northbrook College, were that small school sixth forms should either merge or close.