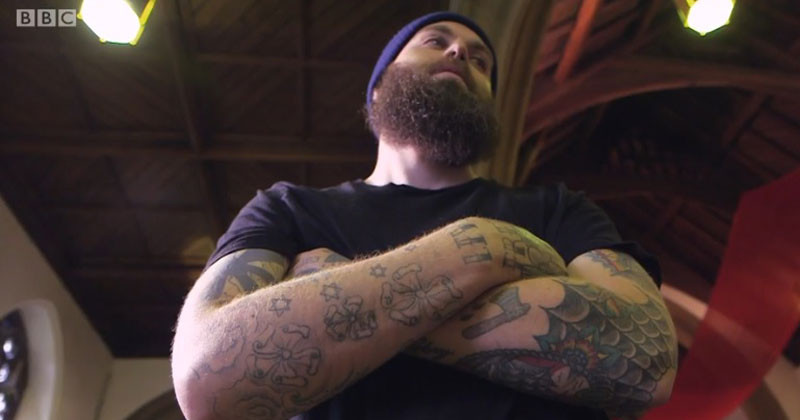 Inundated with television offers and featured in numerous newspaper articles, being the centre of a media storm is all in a day's work for Bath College's resident chaplain, Rob Popejoy. Samantha King reports.
Rob Popejoy could perhaps be described as unconventional in appearance. His job as a college chaplain may conjure prejudice as to how he should appear, but his head-to-toe religious tattoos, passion for motorbikes and hipster-esque beard shatter those preconceptions.
After a Bath student's college article about him went viral, Rob became something of a celebrity. Dubbed "The Holy Hipster" and "Coolest-ever Clergyman" in the national headlines, he was soon approached about making media appearances – perhaps most bizarrely, ITVs Love Island – which he declined.
Rob said: "I get maybe two or three phone calls a year from TV producers. Some things I'm keen on and other bits, like Love Island, I'm not so keen on.
"What was odd with the Love Island request was that the guy contacted me through Facebook, and at the time, my profile picture was me with my wife and child, so I did wonder what he was thinking."
I get maybe two or three phone calls a year from TV producers
However, Rob's most recent appearance on long-running religious show Songs of Praise is something he hopes will make the most impact; not only challenging perceptions of what a chaplain should look like, but also how those who undertake a chaplaincy can get out of their church and involved in their communities.
He said: "I hope that viewers are challenged by what it is to be religious, and by what it is to be spiritual and to have a faith. Also, that you don't always have to fit in to this kind of stereotype that everyone feels is out there."
Appearing on the show for four minutes, Rob is depicted talking about his tattoos – his favourite being a huge portrait of Jesus across his chest – as well as his hobbies and job, which is split between the college and the church, due to being "match-funded".
Rob explains: "I'm half paid by the church and half paid by the college. So it's quite nice, it means it works out for both groups of people really."
Rob's role at Bath College is mainly working within the student participation team. Covering everything from religion to body image, he describes his role as "essentially anything that is additional to the curricular stuff."
Speaking of his position, he said: "When people hear 'chaplain' they think of vicar straightaway – or Charlie Chaplain. But the job gives you permission and the opportunity to talk about religion.
"Sometimes it isn't what people want to hear about, but it does affect a lot of our world so it's how I can meld the two together and help students understand just how much religion impacts the world they live in."
When people hear 'chaplain' they think of vicar straightaway – or Charlie Chaplain
His unconventional appearance for a chaplain has also clearly fired the imagination of college photography students, who have used him as a model for their photoshoots (as reported on by FE Week in October 2014).
In terms of his own religion, Rob grew up in a church-going family, and was baptised at the age of ten.
Despite his faith, Rob still had time for teenage rebellion, saying, "When I was 15, my mum said to me, you don't have to come to church anymore if you don't want to. Naturally, as a teenager, I took that. I had a couple of years out, but when I was 18 I decided to come back to it."