MPs given clearest public indication yet of u-turn on apprenticeship funding cuts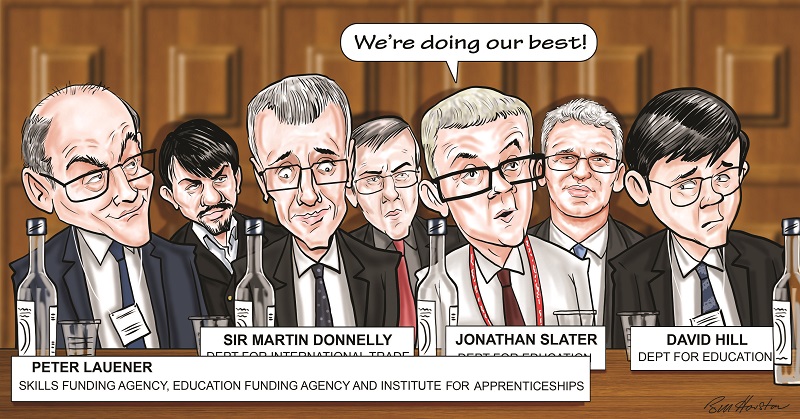 Top skills mandarins have given the clearest public indication yet that they will reverse huge apprenticeship funding cuts exposed by FE Week for disadvantaged 16 to 18 year-olds, during a bruising encounter with the Public Accounts Committee.
The cuts were raised in this afternoon's evidence session by Bridget Phillipson, MP for Houghton and Sunderland South, with committee chair Meg Hillier (pictured above) subsequently welcoming the response from top skills civil servants during an exclusive interview.
It comes after FE Week revealed yesterday that the Skills Funding Agency is understood to have gone some way to address the framework rate cuts in their final plans, due for publication later this month.
Ms Phillipson asked about the impact of proposed reforms that would see funding for 16- to 18-year-olds in some of England's poorest areas cut by up to 50 per cent for starts from May 2017, as highlighted by FE Week research and our subsequent #SaveOurApprenticeships campaign.
Jonathan Slater, permanent secretary to the Department for Education, said in response that getting the funding rate correct for young people from deprived areas "is one of the most active debates we've been working through" and that "we're doing our best to get that right".
He added this issue was "a very strong point that's been made during the consultation phase and how we get that right is one of the most active debates we've been working through".
Ms Hillier told FE Week afterwards she was pleased that it "looks like the civil servants will be looking at funding for 16- to 18-year-old apprenticeships again".
She continued: "They need to do that otherwise there will be areas of the country that will lose out on the benefits of apprenticeships."
She warned that her committee would hold the officials to account to "make sure the money for apprenticeships is spent wisely".
Ms Hillier added her committee would hold the officials to account in the coming months to "make sure the money for apprenticeships is spent wisely".
Earlier in the session Mr Slater was questioned on contingency planning for the apprenticeship reforms, after last month's National Audit Office report highlighted this as an area that needed urgent attention.
Mr Slater said it had been "a good challenge from the NAO, and the team have been cracking on putting each of those into place.
He commented: "I've seen some very detailed contingency plans submitted since then."
The mandarin added he had been told by the chief executive of the Infrastructure and Projects Authority, the body that oversees delivery of major projects across government, that they were "on track" for contingency planning.
Other witness at the hearing included Sir Martin Donnelly, who is now permanent secretary for the Department of International Trade, but headed-up the Department for Business, Innovation and Skills until June this year.
David Hill, director of apprenticeships at the Department for Education, and Peter Lauener, chief executive of the Skills Funding Agency and Education Funding Agency, also gave evidence.
Mr Lauener told MPs: "We consulted on the funding system for post-April 2017. It's been a very lively consultation, lots of comments. We're looking hard at the comments that have come back in and ministers will be considering the way ahead shortly and we expect to publish soon."