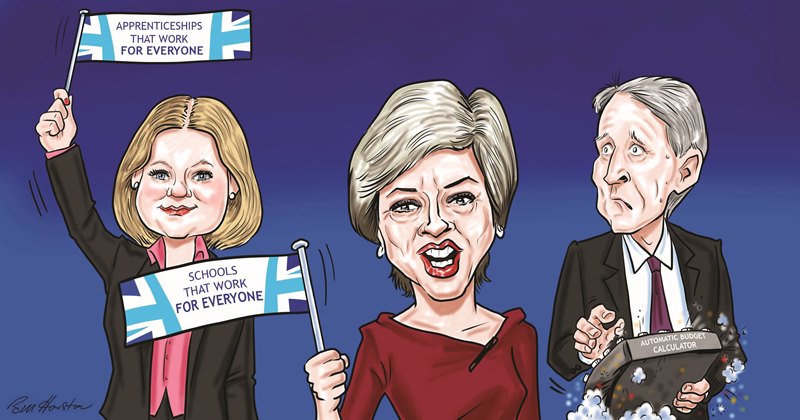 Ministers were in fine voice on skills at the Conservative Party conference this week, but the FE sector must now wait to find out if the lip service they paid will translate into extra financial support.
Skills were at the top of the agenda at the event in Birmingham, and featured in the speeches of numerous party heavyweights including education secretary Justine Greening, chancellor Philip Hammond, defence secretary Michael Fallon and even prime minister Theresa May, who proclaimed training a key element of the government's new industrial strategy.
This show of support for skills – and in particular apprenticeships – follows a commitment from the government to implement the recommendations of the Sainsbury Review in full as part of its skills plan, albeit without a whiff of additional funding.
However, following Ms Greening's insistence that the skills plan is "a big focus for me as secretary of state", and an admission from Mr Hammond that more work is needed to address the skills gap, has led to speculation that more cash could be made available in the chancellor's upcoming autumn statement.
Ms Greening, who was introduced by Fujitsu marketing apprentice Jess Shaw before her speech on Tuesday, made a firm commitment to "transform" technical education, and claimed there had been a "renaissance in apprenticeships" over the last six and a half years.
The education secretary said she was now determined to put technical education "on a par" with academic-based study.
"For too long the technical education they want hasn't been good enough," she said.
"We've already set about changing that with our skills plan and this will be a big focus for me as secretary of state."
Ms Greening said her new, beefed-up department, which was recently enlarged to include post-19 skills policy and higher education, would help bring together the "building blocks" of success for young people.
"Knowledge and skills, the right advice at the right time. Great, challenging, life-shaping experiences.
"These are the building blocks to help young people be successful in their years ahead.
"And that's why we've put responsibility for early years, schools, further and higher education, adult skills and apprenticeships all under one roof, in one department."
Ms Greening added that the work of FE colleges and University Technical Colleges needs to be "pulled together" with extra investment in apprenticeships "from our biggest companies", adding: "We are transforming our academic route; now we must do the same for technical education and skills."
Mr Hammond, who next month will preside over his first autumn statement since he was appointed by the new prime minister in July, admitted that progress in skills had not kept up with the Conservatives' reforms to academic education.
"We've made huge progress over the last six years," he said. "How many people, 10 years ago, would have believed that in every year since 2014, maths would be the most popular A-level subject in English schools? But it was. What a tribute that is to Conservative education reforms.
"But despite the progress, there is still a huge gap between our skills base and that of our key competitors."
Apprenticeships were also on the agenda for Mr Fallon, who announced that the armed forces would aim to deliver 50,000 over the course of this parliament, while environment secretary Andrea Leadsom boasted that the government was "trebling" starts on food- and farming-related frameworks.
The skills plan will see 20,000 post-16 vocational courses replaced by 15 'pathfinder' routes – covering college-based and employment-based training.
This reflects the recommendations of an independent panel, led by Lord Sainsbury, which was set up by the government in November 2015 to look into reforms to technical and professional education.
Plans were also unveiled ahead of the conference on Saturday to fully fund IT courses for adults, putting 'digital literacy on a similar footing to English and maths.