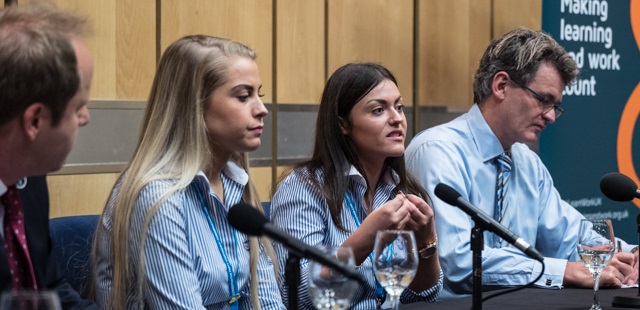 Apprentices should be sent into classrooms to tell school pupils about vocational career and training options, according to two learners who chose apprenticeships despite having been discouraged by their schools.
Ellie Newton (above left) and Liberty Hobbs (above right), both business administration apprentices with Pimlico Plumbers, told a fringe event at the Conservative Party Conference this morning that they had not been told at school that apprenticeships were an option.
Their comments have sparked calls for better targeting of careers funding and for a change to allow the apprenticeship levy to be used to pay for measures to help more young people access apprenticeships.
I was told in my school that if I got an apprenticeship I would be wasting my time
The fringe event, co-hosted by FE Week, the Association of Colleges, the Learning and Work Institute and the Association of Employment and Learning Providers focused on proposed funding reforms and on whether enough was being done to promote apprenticeships.
Ellie Norton, who is currently completing her level two qualification, said she had heard about the opportunity through a friend at the company, and said she would have benefited from hearing from other apprentices when she was at school.
"Not everybody wants to go to uni," she said, "and at the end of the day, you can come out the end of uni and not even get a job. As an apprentice I know I am guaranteed a full-time job afterwards and I can take my qualification anywhere."
Liberty Hobbs, who is doing a level three qualification and plans to move into management, said she wasn't enjoying sixth form and happened upon the vacancy at Pimlico because other employers had told her she needed a qualification.
"I think we should actually go into schools and actually speak, word of mouth, like we're doing now, just to get the younger kids aware of everything," she said. 
"I was never told about apprenticeships. It was always 'uni is the way forward, uni is your life now', but it just wasn't for me. I was even told in my school that if I got an apprenticeship I would be wasting my time and I wouldn't have a job, I wouldn't have a career, that I would need uni behind me to actually make something of myself."
Hobbs added that she was never even taught how to write a CV, and encouraged instead on preparing for her Ucas personal statement.
Mark Dawe, the chief executive of the AELP, said he was yet to hear a story from an apprentice which did not talk about schools discouraging them from taking a vocational pathway.
"I I think it's an absolute disgrace that we're hearing that yet again," he said, and called for immediate action from the Careers and Enterprise Company (CEC), which was set up in 2014 to boost exposure to careers and training opportunities for school children.
"I don't know what the Careers and Enterprise Company  is doing but they need to do something quick about this," he said. If we don't change this, we're not going to change apprenticeships and get the prestige that [apprenticeship minister] Robert Halfon talked about.
"The advice is not getting into the schools, and maybe more money needs to be given to WorldSkills and not CEC, because actually they're demonstrating what good apprenticeships and good work-based-learning is."
But Dawe said careers advice also had to target parents, as they often discouraged their children from taking up an apprenticeship.
"It's not just the schools," he said. "I've heard, on a number of occasions, that dads were resistant. Us dads can be a bit stick-in-the-mud. That 'there's no way you're doing an apprenticeship, you're going to university' type of approach.
"I do think actually parents are another key target we need, to help them understand what the opportunities, especially the new opportunities are."
He said parents whose children had flourished in apprenticeships should be used to promote the route too.
Other ways of attracting young people to take up apprenticeships and to help them get into the sector if they were at a disadvantage were also discussed, including proposals in the government's skills plan for a "transition year", although David Hughes from the AoC said he had concerns.
Hughes said he was "really keen" on the idea, branding it "sensible" and "long-overdue", but he warned it could fail without additional funding. "I'm worried they're trying to do it on the cheap," he said. 
He also called for changes so some of the money raised by the apprenticeship levy could be spent on access – encouraging poorer pupils and those in hard-to-reach areas to go into further education.
"In higher education, there's about £1 billion spent on access. In apprenticeships there's nothing. And all we're saying here is could you use some of the levy to spend on access?"
The government was also urged to listen to learners more, as Stephen Evans, chief executive of the Learning and Work Institute, warned that although the employer voice was "important", the apprentice voice was also key, but often got "lost".
Photographs: David Lake