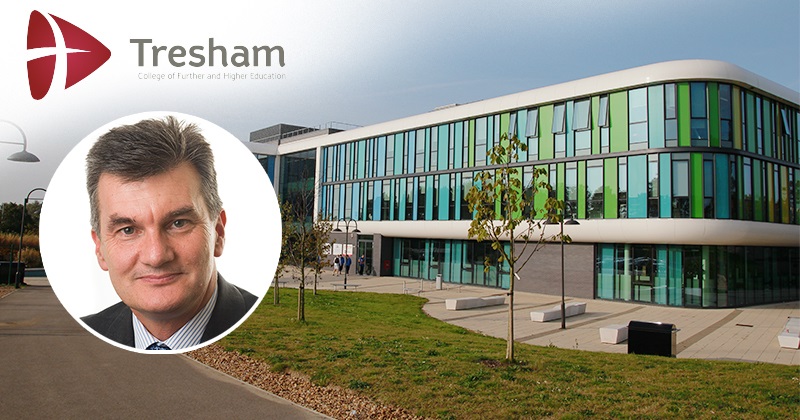 The principal of a troubled college is stepping down just six weeks after he was given the "full backing" of his governing body, following a damning grade four Ofsted verdict.
Stuart Wesselby's resignation from Tresham College of Further and Higher Education will take effect from September 30, the college has confirmed.
It comes after the college was rated inadequate overall in a report published by the education watchdog published on August 10. It was previously rated 'good' in 2009.
A Tresham spokesperson said at the time that Mr Wesselby, who has been in the post since 2012, had the "full backing of the college's governing body to remain as principal" despite the verdict.
But Simon Evans, Tresham chair of governors, told FE Week today: "It is with regret that I must confirm that Stuart [Wesselby] has decided to step down as principal of Tresham College.
"I would like to thank him for the contribution he has made to the development of the college and its students during his time as principal.
"Stuart has always been a passionate advocate of Tresham, its students and staff and I wish him well in all his future plans."
He added Corrie Harris, vice principal for curriculum and quality, will be interim principal "pending the recruitment of a longer term appointment".
According to his LinkedIn profile Mr Wesselby took over as principal at Tresham in January 2012, having previously led East Durham College from 2010 to 2012. Prior to that he was vice principal at Tresham from 2008 to 2010.
FE Week understands that the Ofsted report took longer to be published than the usual six weeks for a grade four, as the college tried and failed to challenge the verdict.
The college, which had an Education Funding Agency allocation of £13.3m and a Skill Funding Agency allocation of £5.7m in 2015/16, was heavily criticised by inspectors for poor achievement rates.
The report said that learners on study programmes, who made up the majority of the college's 4,700 students, "make inadequate progress towards their learning outcomes" with the proportion "who achieve the grades expected of them" also inadequate.
Apprenticeship achievement rates, particularly for 19- to 23-year-olds, were also "too low".
At the time, a spokesperson for Tresham told FE Week that Mr Wesselby was "extremely disappointed" with the verdict, particularly on outcomes, which was based on results from 2014/15.
The college had already put in place a number of improvements which were predicted to lead to better outcomes in 2015/16, but these had not been taken into account by Ofsted, the spokesperson said.