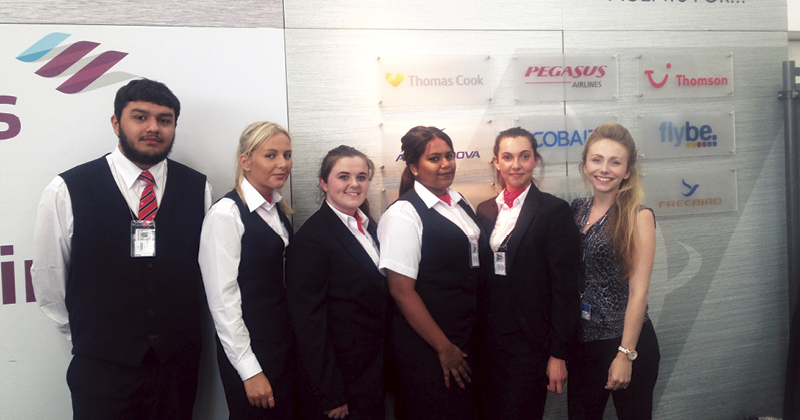 Five students from Epping Forest College are flying high after securing jobs with the aviation services company Swissport at Stansted Airport.
The students, who studied tourism and aviation courses at the college, passed their two-week induction at the company with flying colours, and are now settling into their new roles as Passenger Service Agents.
Flynn Edwards, Lauren Finch, Sarah Kearney, Yathusheni Yasotharan and Georgina Stuchfield with trainer Hannah Lee (pictured) have all been commended on their positive attitudes by their new employer and have made both their tutors and the college proud.
The students had the opportunity throughout their course to visit countries such as Dubai and Rome, and also undertook several industry visits, including one to Swissport to equip them with the relevant skills and knowledge required by employers.
Simone Butler, the tourism and aviation lecturer at the college, said: "I'm so proud of what my students have achieved. After a successful assessment day with Swissport and then an interview they were offered permanent full-time work.
"I hope to one day be checked in by one of my students at Stansted!"
Saboohi Famili, the principal of the college, said: "Swissport is a prestigious employer and this is a testimony to the hard work of our staff and of course, our students."