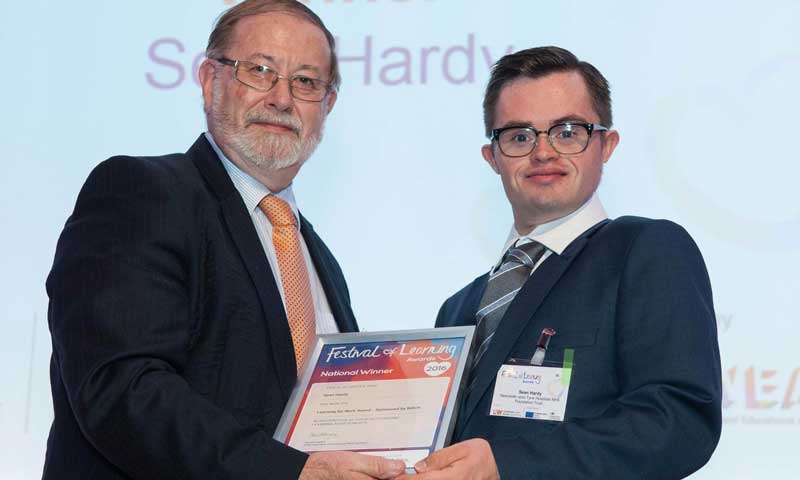 Outstanding tutors, projects and employers were recognised through The Festival of Learning Awards 2016.
A notable winner, the Leicester City Football Club Community Trust, was credited for its employability program boosting the employment prospects of its home city's hardest to reach young people through work-related training or education.
Emily Bird, from LCFC Community Trust, said: "We are delighted to be recognised with this prestigious award.
"The local community has supported us through thick and thin therefore we take tremendous pride in repaying their faith by offering them the chance to achieve their ambitions, like we have done ours [through winning the Premier League last season].
"We'd especially like to thank all the staff for their hard work and dedication to delivering such an incredible service.
"We hope each person, no matter his or her background, can secure future opportunities by enlisting on the scheme."
More than 50 regional and national Festival of Learning winners were selected for a range of awards across four categories — individual, tutor, employer, and project/provision, with the ceremony held in Birmingham.
Another winner was Emily Hicks who is dyslexic and has been the main carer for her mother, who is bi-polar, since age 11.
This did not stop her progressing through York College and Manchester Met University to becoming an activity co-ordinator at York Carers Centre.
She said: "I am determined to make a difference. I want to continue learning, widen my skills and knowledge about the huge scale of problems faced by social care.
"I want to improve people's lives and help other young carers."
Also recognised was Sean Hardy, who has Down's syndrome but was aid to demonstrate "incredible perseverance to achieve his goals".
In 2013 he joined Project Choice, a supported internship scheme for young adults with learning difficulties, disabilities or autism, which allowed him to gain precious work experience while completing an employability qualification at college two days a week.
Sean applied for a medical records clerk vacancy and was proud to talk about his new skills and felt "tearful with happiness" when offered the role.
Stephen Evans, chief executive of the Learning and Work Institute, who led the awards, said: "Our award winners have shown the power of learning and work and how they can change help people change their lives for the better. We're thrilled for all of the winners who deserve recognition for their hard work – they are a true example to others."