Three apprenticeship reform advisory groups, set up by the government, were never told of plans to cut 16- to 18-year-old framework rates by up to 50 percent, FE Week can exclusively reveal.
As previously reported, our exclusive analysis of government plans shows that, despite a £1000 provider incentive, the funding to deliver apprenticeship training and assessment to young people will be slashed from 1 May next year.
The new funding rates were published on 12 August alongside a consultation about reform proposals that ran for three weeks, although the 'provisional' apprenticeship framework funding rates due to be confirmed next month did not feature in a consultation question.
And incredibly, members of three government advisory boards: the Apprenticeship Delivery Board, Apprenticeship Stakeholder Board and the Apprenticeship Provider Reference Group, were left in the dark about the new rates and their impact, despite the groups being set-up specifically to be consulted on plans as they developed.
FE Week spoke to the Association of Employment and Learning Providers, who have a seat on both the Stakeholder Board and the Provider Reference Group.
Mark Dawe, AELP's chief executive, said he was only given a verbal "general briefing" on 11 August, so it came as a surprise when the rates were published the following day. He has subsequently described the dire impact they would have.
Mr Dawe went on to say: "The government has said that the funding rates and provider register are a genuine consultation and therefore we trust them to listen to us and our members where there is almost unanimous agreement as to the changes required.
"These changes are based on the desire for a high quality apprenticeship system delivering social mobility.  This is particularly true around funding rates, uplifts, quality providers and suitable transition arrangements – all of which we and our members have been calling for or requested maintaining before the consultation was even formally launched."
The Apprenticeship Provider Reference Group, although never publicly announced, was set up by the Skills Funding Agency to consult colleges and training providers and has been meeting for some time. The SFA told FE Week the group's next meeting is at their head office in Coventry tomorrow, and the rate cuts are likely to discussed at length.
The existence of the Apprenticeship Stakeholder Board has also never publicly been announced, although it is widely known that it is chaired by Jason Holt, the government's small business apprenticeship ambassador.
The third government group, the Apprenticeship Delivery Board (ADB), does have published terms of reference, membership and minutes. 
The SFA provides secretariat support and told FE Week that when the ADB meet last Thursday it was chaired by David Mellor, a non-executive board member at the DfE. Prior to this the ADB had not met since 26 May.
The lack of consultation comes despite the rates announcement being delayed more than a month, as new ministers grappled with their responsibilities and a back-log of decisions.
FE Week asked the new Apprenticeships and Skills Minister whether civil servants had made him aware of rate cuts before the announcement, and were told in a response from the DfE that "we do not provide a running commentary on internal policy developments."
However, Robert Halfon did say in a that he had "a lot of apprenticeship casework to do" and had just met "two former ministers for apprentices to understand what they do and what I need to learn from them" (pictured).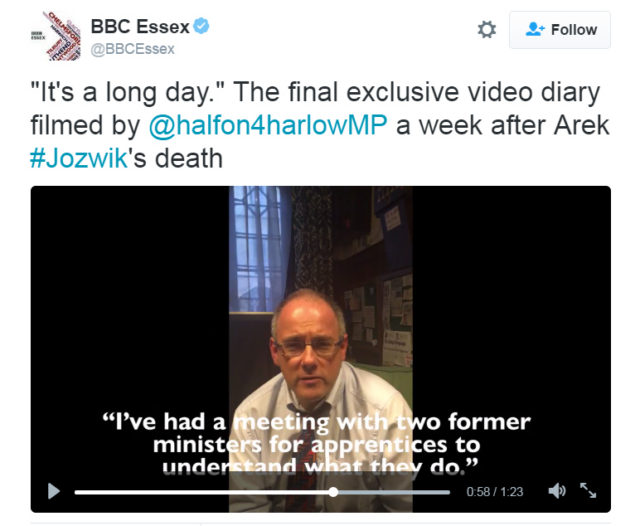 At the time of publication the DfE had not confirmed if it was the two most recent ministers reponsible for apprenticeship that he had met with, Matthew Hancock and Nick Boles.
After we shared our analysis with several MPs,  the shadow FE and HE minister Gordon Marsden and a former HE minister David Lammy each wrote separately to the Skills Minister Robert Halfon, as reported in The Guardian, Independent and Mirror.
Last Friday the Permanent Secretary, Jonathan Slater, who is the most senior civil servant at the DfE, as well as the their Director of Apprenticeships, David Hill, visited an AELP member.  
And we understand these two top civil servants took the opportunity to ask about managers at the training provider Jobwise Training about the rate cut implications (pictured).
This week, in response to the planned funding rate cuts, FE Week launched its first official campaign, and will host a Save our Apprenticeships event in parliament tomorrow.
The event will be hosted by Mr Marsden and chaired by Nick Linford, author of the Complete Guide to Funding Apprenticeships and FE Week editor.
A panel of MPs, including former HE minister David Lammy and the Education Select Committee chair Neil Carmichael, will hear directly from colleges and training providers about the impact these rate cuts will have on young people.