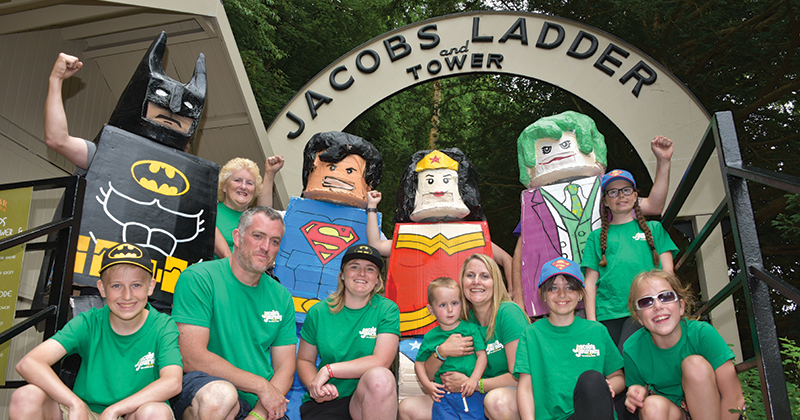 Staff from Weston College have gone the extra mile to raise money for a two-year-old boy who needs £75,000 surgery in the US to help him walk, writes Samantha King.
It was through a fundraiser for Jacob held at Weston College that member of staff Marcus Tyler, first heard Jacob's story. With a ten-year background in fundraising, he decided he would go one step further – 60 miles in fact – to raise as much as possible for Jacob's cause… while dressed as a superhero.
Marcus, who is residential coordinator at Weston College, said: "Myself and a friend went to Twickenham to watch the rugby and made these cardboard superman and batman costumes. They were getting a lot of attention and I thought they would be fantastic for fundraising.
"We didn't have anything to fundraise for at the time, so when this came through it just sort of clicked into place that it would be brilliant, and as I was talking about it, my colleagues overheard and said they wanted to be involved in the walk."
Marcus was joined by colleagues Leigh Murray and Emma Rosewel, both specialist tutors at the college, as well as numerous supporters throughout the 60-mile walk, which began at Blackpool Pleasure Beach and reached its conclusion at the aptly-named landmark, Jacob's Ladder, in Cheddar Gorge.
Marcus said: "A lot of the walk was going to different cities and towns, doing collections and taking photos. The reception from people was fantastic. Jacob and his family joined us in Blackpool when we started, and so we did collecting up there. He and his sisters walked with us along the seafront and then rejoined us when we got back to Weston."
Jacob Baird was diagnosed at just 18 months old. After missing major movement milestones like crawling, sitting and pulling himself up, it became apparent that something wasn't quite right. The diagnosis? Spastic diplegic cerebral palsy.
The condition causes spasticity and permanent stiffness in the lower limbs, and has rendered Jacob unable to walk. Whereas most 2-year-olds are up on their feet, Jacob can only go so far before his legs cross over and he falls.
In January 2016 Jacob's mum, Nicola Baird set up the 'Jacob's Journey' fundraising page in an attempt to raise £75,000 for a life-changing operation that could release the tension in Jacob's legs and give him the chance to walk. The operation, called selective dorsal rhizotomy, is currently available only in the US, and requires two years of intensive physiotherapy following the procedure, which naturally doesn't come cheap.
The superhero walk raised a total of £1,500 for the 'Jacob's Journey' campaign, which has now almost reached its £75,000 target.
Nicola Baird, Jacob's mum, said: "We're getting very close to our target. Marcus and the staff at Weston College have given it a mighty push to get us that little bit closer."
Marcus added: "We came in at the end of Jacob's fundraising, so it's really nice because they've almost hit the target to take him to have the operation.
It's really rewarding knowing that's now going to happen.
"Unfortunately the superhero costumes have been retired for now; they're a little bit worse for wear, but they may return."