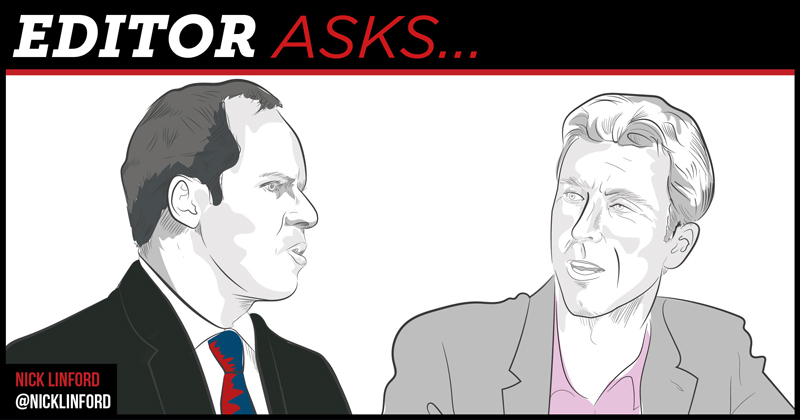 Last week saw David Hughes become the fifth chief executive of the Association of Colleges in its 20 year history.
Many readers will know that he's been close to the action ever since joining the Further Education Funding Council in 2000 and more recently as chief executive at the Institute for Learning and Work.
I've known David for over ten years, first clashing over his approach to the distribution of ESOL funding to colleges in London, when I was a Director at Lewisham College and he was the LSC Regional Director.
Since then our paths have regularly crossed, such as when he speaks at events and in the pages of FE Week, where he has regularly featured as both a commentator and in the cartoons.
David is a well-respected FE leader with plenty of experience and his policy views are well documented.
But now he is at the helm of the AoC, this was the first opportunity to quiz him about his approach to representing colleges.
With a new minister appointed for apprenticeships and skills likely to be wanting to stamp their mark, I started by asking which policies are working and which should be left alone.
It's a tough question because as a sector we tend to focus on the negative impact policies have on further education.
David ducked identifying a policy and instead said: "Not sure that's the issue. The issue is scale and breadth of change, lack of systemic approach to change process. You've got area reviews, devolution, apprenticeship reforms, Sainsbury review, maths and English, curriculum changes, higher education changes and the list goes on.
"Colleges in particular are dealing with all of that at a time they have been crushed financially over the last eight years.
The issue is scale and breadth of change, lack of systemic approach to change process
He continues: "I think one of the things the minister needs to do is step back from it and say 'what are the most important changes to be done and over what period', and put in a proper change management process".
We move on to talk about the role of the AoC and I ask him about Martin Doel's reflections article, in which he said he regretted not focussing more on creating a sense of identity for colleges. This, said the outgoing chief executive of the AoC, allowed ministers to push colleges around.
David was quick to defend Martin, saying: "It has always been an issue ever since I've been in the sector. I've always thought that part of the reason why FE is overlooked is the simple one, that most of the people in Whitehall didn't participate in FE, in a college.
"Therefore they don't have a good understanding. There have been multiple attempts – groups and organisations that tried to make the change.
"I'm mildly optimistic that the Sainsbury review could provide a new platform for colleges to have a unique place in the education system… we need a college in every community that can deliver most, if not all 15 areas: high quality, good relationships with employers, so on. That will become the signature of what the FE sector is about."
Another challenge for any AoC chief executive is clearly representing members when they might disagree with each other.
I put this to David and ask if it is reasonable to expect the AoC to represent the views of large multi-site, multi-age vocational colleges with £100million turnover, whilst also representing small sixth form colleges?
"Yes." he shoots straight back. So I press him further and he admits: "It is challenging.
The dynamic of it is not that I sit here and work out what to say in Whitehall, disconnected. Membership organisations are difficult because you have lots of people with different opinions. The focus Martin has achieved over the years is about the key issues common to all or most colleges.
"That's what you do; go to the 80 per cent and support different interest groups around rural, urban, big, small, and agricultural. It's a constant job, communicating, working with and supporting people who have made their own submissions. That's why it's exciting. Diversity is fun."
But what about the annual cost of AoC membership, which for some colleges is nearly £50,000? What is his elevator pitch to encourage colleges to remain?
He tells me colleges need to stick together as members because "collectively they've got a lot of clout, collectively they [colleges] deliver to millions of people in this country, and collectively they've got a lot in common. The impact of all of that has shown over the years to be really powerful in Whitehall, with the Treasury, with the Department.
"Despite devolution there's still going to be a strong need to represent the interest of colleges, in Whitehall, regionally and locally, and the AoC does that with colleges, for colleges, by colleges. If we don't hold onto that collective it's much easier for colleges to be ignored."
I acknowledge that it was only David's second day at the helm but go ahead anyway and ask him if there is anything he wanted to say about how he thinks the membership body might now change.
To my surprise, although doing my best poker face to hide it, he talks candidly about the AoC board calling for an immediate review that might change the AoC services and regional structure.
Despite devolution there's still going to be a strong need to represent the interest of colleges
"Part of my first two months before our annual conference in November is to go around every region and see as many members as I can and ask what they want." he tells me.
"The last proper review of the AoC was eight or nine years ago, just before Martin started and a lot has changed since then. It's a really good time for me starting, the board have said 'let's do a review'.
"The first part is informally asking the members to say what they think. Then to use the annual conference [in November] to formalise it a bit more to come up with some proposals.
"What do you want and what are you willing to pay for? We've got a regional structure which was based on old government office regions, is that the right geography, should we change it?
"What are the services that need to be local, need to be central, what do people most preciously want to keep, want to do differently? It's a great opportunity for me. If you look at what has changed since then, institutions, politics, governments have changed, new prime minister.
"The policy landscape looks completely different than it did eight or nine years ago. It's a fantastic time to ask people what should we do and how should we do it."