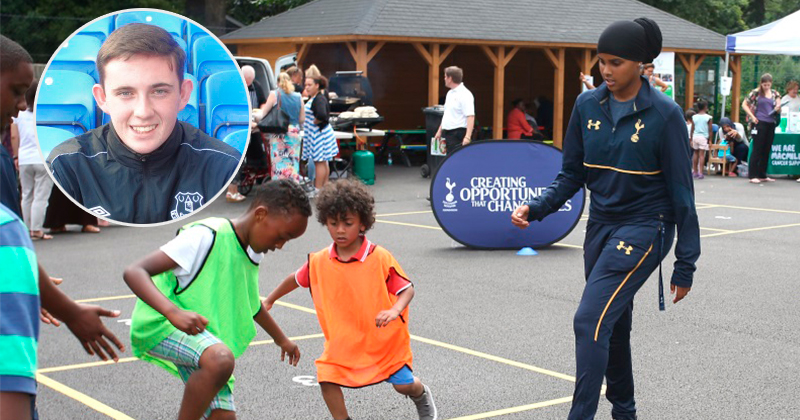 As the Premier League season kicks off, many people dream of getting close to their football heroes.
But for some young people that dream is a reality, thanks to an apprenticeship with a top club – enabling them to combine a passion for football with experience that will set them on the right track for their future careers.
One such apprentice is Aaliya Abdirahman [main picture, above], who is surely the envy of many a footie fan as she completes her level three apprenticeship in sports coaching with top club Tottenham Hotspur.
The training is run through the club's education academy in partnership with independent training provider the Mitre Group.
It's a varied role for the 17-year-old, who might find herself supporting local primary schools with PE lessons, watching the club's scouts as they go about their work or mentoring young people who are at risk of becoming disengaged with education.
The latter is something Aaliya knows about first-hand.
She struggled at school, having faced challenges in her personal life, and had been in danger of becoming NEET (not in education, employment or training).
At the age of 14 she got involved with the Tottenham Hotspur Foundation Kicks youth programme, which helped to turn her life around. She was then offered mentoring support from the foundation, which led her to take up the apprenticeship.
Now, she says, "I'm using my own experiences to help others because I know how sport can change lives."
Doing the apprenticeship has "changed me as a person and really enhanced my personal development, particularly in terms of confidence levels."
She admits that "if I wasn't currently on the apprenticeship, I don't know what I'd be doing. I don't think I would have been employed or at college." 
Thanks to her apprenticeship, Aaliya now has a clear idea of what she wants to do in the future.
Having already completed a level two apprenticeship, she says: "I plan to progress on to doing more advanced coaching qualifications and hopefully secure a job as a sports coach working with disadvantaged young people from the community."
Nikki Kelly, Tottenham Hotspur Foundation's head of programmes, said that investing in apprentices "not only benefits us as a business, but also the local community, providing employment and training opportunities to local residents".
For lifelong footie fan Dylan Dickinson [inset picture, above] an apprenticeship with Everton in the Community, the official charity of the premier league team, "doesn't feel like a job".
The 19-year-old is doing a level two sport activity leadership apprenticeship with the charity, run in partnership with Riverside College.
The role involves supporting the charity's school education team to provide football coaching and mentoring for local children and young people. He works across a number of projects with primary and secondary school pupils, and at summer soccer camps.
Doing the apprenticeship was a natural step for football-mad Dylan, who took a level one qualification in football coaching while he was still at school. He then followed this up with a level three BTEC in sport, while also managing a local under 8s football and helping out at Everton FC's training academy.
He says he's "absolutely loving every minute of being an Everton apprentice, it simply doesn't feel like a job and brings nothing but fantastic experiences".
A spokesperson for Everton in the Community said: "As an organisation, we believe in apprenticeships as, in very simple terms, they're good for and add value to our business".