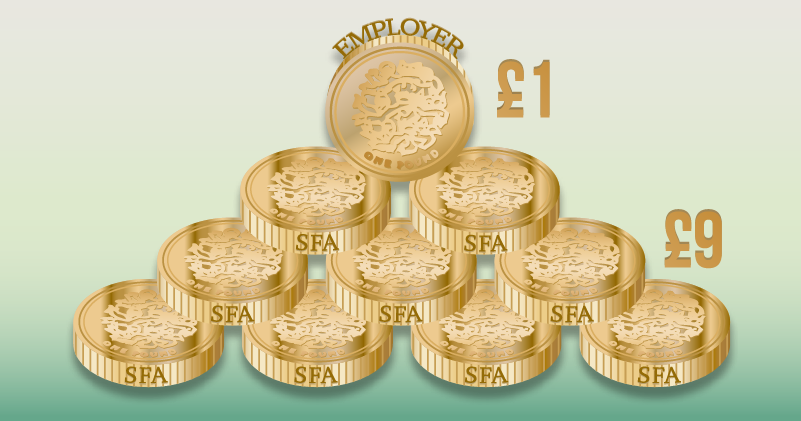 The news that the majority of employers will only pay 10 per cent of apprenticeship training costs from April 2017 has been welcomed by many in the sector – but concerns still remain.
FE Week was first to publish details of the funding arrangements for small- and medium-sized enterprises – previously reported in June, having been leaked to FE Week – after they were confirmed by the Department for Education in this morning's hotly anticipated apprenticeship levy update.
Under the new proposals, the 98 per cent of employers with wage bills of less than £3m, and who therefore will not be paying the apprenticeship levy when it is introduced next April, will have 90 per cent of any apprenticeship training paid for by the government.
Mike Cherry, Federation of Small Businesses national chairman, said that today's announcement "sends a clear signal that ministers are listening to our members' concerns".
He said a quarter of FSB members were considering employing apprentices in the future "but only if they feel apprenticeships are affordable".
He added: "Getting apprenticeship reform right, including changes to existing funding arrangements, is key to apprenticeship growth among small businesses."
But John Hyde, HIT Training chairman, warned that the new arrangements would be a "huge disincentive" for both levy and non-levy paying employers over the next 10 months.
Any employer taking on an apprentice under the new standards now would pay a one third employer contribution, but by waiting until next May that would drop to a 10 per cent contribution for SMEs, or through levy payments for larger employers.
The new arrangements should be introduced now, he said, "otherwise employers will delay their starts until May next year, which will not only affect the government's 3 million starts target, but financially destabilize the provider network over the next ten months if they cannot recruit sufficient apprentices to survive".
And the Association of Employment and Learning Providers said that, while "mass disengagement" of SMEs may be avoided, it still had concerns about how the apprenticeship reforms would affect them.
The "insistence of insistence of a cash contribution from these employers could in our view still have a very negative impact", a spokesperson said, and urged ministers to keep the issue under review and to phase it out "if our fears about the impact are realised".
Martin Doel, Association of Colleges chief executive said the system "does not appear to be any simpler than before, but we understand that a balance must be struck between simplicity and leaving the system open to exploitation".
Carolyn Fairbairn, Confederation of British Industry director general, said that today's announcement "shows some progress, including support for smaller firms, but fundamental problems remain".
But she reiterated the CBI's call, first made in July, to delay the implementation of the levy, which she said "in its current form risks turning the clock back on recent progress through poor design and rushed timescales".
"Without a radical rethink it could damage not raise training quality," she added.
This call was echoed by shadow skills minister Gordon Marsden who said "there appears to be no concession" to the calls to delay implementation.
He said: "There is no point working to an artificial deadline if it cannot be delivered."
Mr Marsden said that, while he welcomed the news that SMEs would only have to pay a 10 per cent contribution, he warned that "it is not simply about money, it's also about capacity and bureaucracy" which he said had been a "major disincentive" for apprentices to be taken on by small employers.
Stephen Evans, Learning and Work Institute deputy chief executive, said that today's announcement would give employers and providers clarity to help them to plan.
He added: "I welcome today's announcement that government will fully meet the apprenticeship training costs for young care leavers and young people with EHC Plans, alongside a further commitment to support additional costs."
Sue Pember, HOLEX policy director, said she was pleased with funding arrangements for small employers, and the support for young people and those with a care plan.
But she added: "The proposals are silent on those who are older and who may have a disability and need extra support to access an apprenticeship. We would like to see that addressed."
And Laurence Gates, the Education and Training Foundation director leading on apprenticeships, said that clarity on the funding issues would be welcomed by the sector.