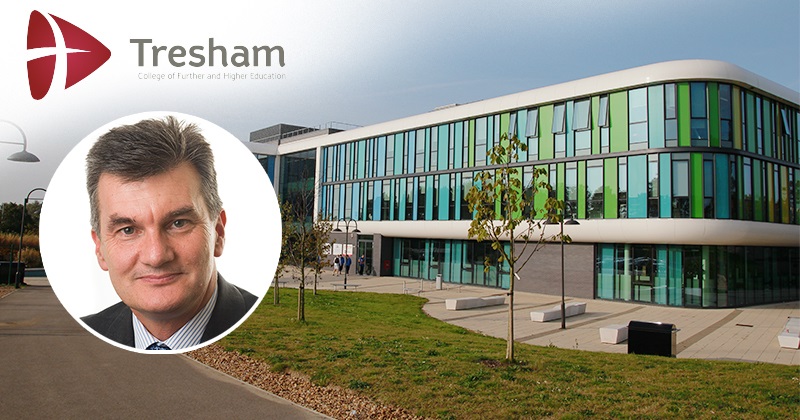 A principal will keep his job despite his college dropping two Ofsted grades to inadequate.
The education watchdog's verdict on Tresham College of Further and Higher Education means it is the 12th general FE college to have been handed the lowest possible rating since last September.  
The latest report, published today but based on an inspection from June 7 to 10, also rated Tresham grade four in five out of seven headline fields – leadership and management, teaching and learning, outcomes, study programmes and apprenticeships.
Only one field – adult learning programmes – was awarded a good, while personal development, behaviour and welfare was graded as requires improvement.
But a spokesperson for the college told FE Week that, despite the damning report, Tresham principal Stuart Wesselby will remain in post.
FE Week understands that the report took longer to be published than the usual six weeks for a grade four, as the college tried and failed to challenge the verdict.
The report on Tresham, which had an Education Funding Agency allocation of £13.3m and a Skillls Funding Agency allocation of £5.7m in 2015/16, found that the "principles of study programmes are not being met" with "too few students" able to undertake a "meaningful and relevant work placement".
Learners on study programmes, who make up the majority of the college's 4,700 students, "make inadequate progress towards their learning outcomes" with the proportion "who achieve the grades expected of them" also inadequate.
Attendance at GCSE English and maths lessons was also "too low", the report said, with students' development in these areas "poor".
Consequently, achievement rates on study programmes were "too low and have declined steadily over the past three years", the report said.
Apprenticeship achievement rates, particularly for 19- to 23-year-olds, were also "too low".
In addition, the report said: "A significant proportion of current apprentices are making slow progress, largely because assessments and reviews of their work are too infrequent."
Poor target setting, insufficient written feedback, and a lack of coordination between workplace learning and college-based training were also blamed for apprentices' lack of progress.
The small number of A-level students at the college also "performed very poorly", the report said.
In contrast, "highly motivated" students on the college's adult programmes "develop useful skills to prepare them for work and further study" as a result of "highly effective" teaching and well-planned lessons, the report said.
A Tresham College spokesperson told FE Week that Mr Wesselby was "extremely disappointed" by the Ofsted verdict, particularly on outcomes, which was based on results from 2014/15.
The college had already put in place a number of improvements which were predicted to lead to better outcomes in 2015/16, but these had not been taken into account by Ofsted, the spokesperson said.
She added: "Mr Wesselby has the full backing of the college's governing body to remain as principal of Tresham."
The spokesperson also confirmed that the college is scrapping its A-level provision from September due to falling student numbers.
Tresham College is expected to be involved in the South East Midlands area review, part of wave five of the reviews, which is due to start in November.
A spokesperson for the Department for Education said "We are considering Tresham College's recent Ofsted inspection in line with our intervention processes. 
"Under this approach, any college rated inadequate will be assessed by the FE commissioner."