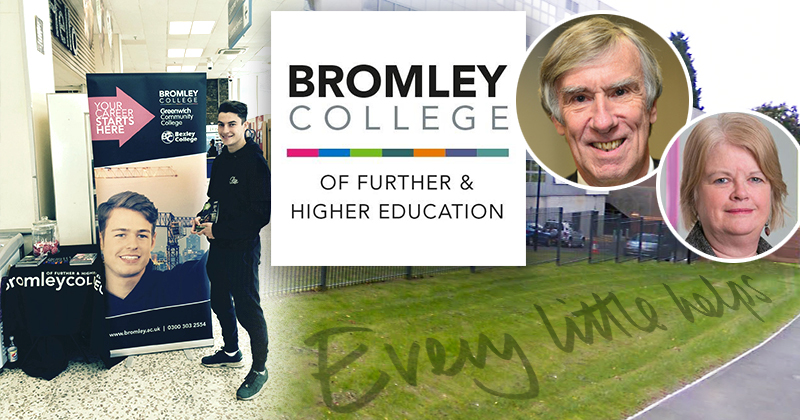 They may say at Tesco that "every little helps" — but Bromley College faced criticism that it had overstepped the mark by touting for students in a supermarket on a rival's patch.
The college initially tweeted at lunchtime today that it was at Lewisham Tesco, and invited anyone interested to "come along and find out about the courses we can offer".
This prompted FE Week editor Nick Linford to raise the question of whether colleges ought to be competing on each other's patches — after FE Commissioner Sir David Collins criticised the practice before Christmas as a waste of limited funding.
It sent Bromley into defensive mode, with it then tweeting: "We are here as almost a third of our students live locally and it's important students know their options."
Lewisham Southwark College principal Carole Kitching also chipped in, after it was suggested that Bromley shouldn't mind its rival placing "pop up banners on your [Bromley's] lawn".
She quipped: "Hope they've got the grass cut ready for us….every little helps!!"
Ms Kitching declined to comment any further.
But Sam Parrett, principal of London South East Colleges, which now incorporates Bromley College, told FE Week: "Marketing in London by London colleges has, and always will, cross boundaries due to good transport links. There is no such thing as a patch.
"We are all keen to encourage as many people as possible to improve their career opportunities by gaining a qualification and developing their skills."
She added: "Around 2,000 Lewisham residents have chosen to study at Bromley College during the past year, due to the wide range and high quality of our courses.
"However, it is important to highlight that the borough of Bromley also exports many students to neighbouring colleges."
It comes after FE Commissioner Sir David Collins complained last October that marketing pitting college against neighbouring college was an important factor preventing the sector from being "sustainable".
He said in a letter to all chairs and principals of FE institutions: "Significant resources are used on competitive marketing – one college against another – rather than on marketing the real opportunities that colleges as a whole can offer to learners and employers."
The Department for Education declined to comment on the Twitter exchange, or the wider issue of whether colleges should be spending money on this kind of competitive marketing.
Tesco also declined to comment.
Here's the initial tweet:
At Lewisham Tesco today, come along and find out about the courses we can offer! https://t.co/fKQpu2LlmT pic.twitter.com/SdMEzsrYmc

— Bromley College (@BromleyCollege) August 4, 2016
Here's how the exchange then developed:
Hi Nick we are here as almost a third of our students live locally and it's important students know their options! 😊 https://t.co/wzbR6IeuTX

— Bromley College (@BromleyCollege) August 4, 2016
@NickLinford hope they've got the grass cut ready for us….every little helps!!

— Carole Kitching (@cjk100) August 4, 2016