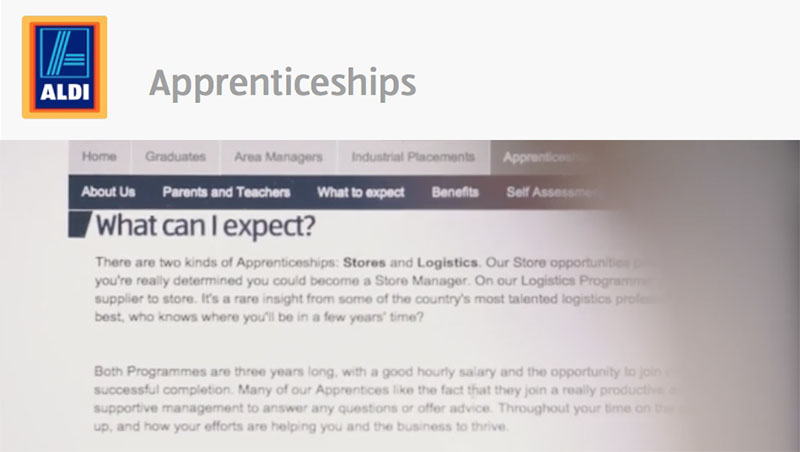 Aldi has been accused of double standards after a controversial TV advert suggested the supermarket chain takes a "light hearted" approach to maths that isn't reflected in the minimum grade-C entry requirement for its apprenticeships.
The back to school advert, part of the retailer's 'amazing' series, was screened on ITV ahead of a 'special buy' promotion for £4 school uniforms on Thursday (July 14).
This included the offending line that "finding out your first lesson back [at school] is double maths" is "not so amazing".
Twitter and Facebook users reacted angrily to the "irresponsible" stereotyping, with attention being drawn to the fact that Aldi has high maths expectations of its apprentices.
One of the tweets responding to the advert, posted by @solvemymaths, stated: "New @AldiUK advert promotes negative views of learning maths. Yet they require maths GCSE. Hypocrites. PLEASE RT."
New @AldiUK advert promotes negative views of learning maths. Yet they require maths GCSE. Hypocrites. PLEASE RT pic.twitter.com/Nt4QE4dLTC

— solve my maths (@solvemymaths) July 14, 2016
This got 25 likes 50 retweets, including the following by @mathswebb: "Been an @AldiUK since 1998 Maths is important, you'd be bankrupt without mathematicians. Please withdraw THAT advert. Any @LidlUK offers?"
@LidlUK responded: "We'd be a 'fraction' of who we are without mathematicians in the world, Mr Webb."
Sally-Anne Haynes was one of a number of people who also posted angry comments on Facebook.
She said: "Your irresponsible Back to School TV ad, with its negative stereotyping of mathematics teaching, is undermining years of hard work by maths teachers."
It comes amid concern that too many apprenticeship schemes are becoming elitist in terms of applicants they will consider.
FE Week reported three years ago that government vocational education adviser Professor Alison Wolf had called for a broader view to be taken of applicants' abilities, after she was presented with the results of FE Week research on minimum maths and English entry requirements.
We found that an apparently growing number of adverts for intermediate apprenticeships were asking for maths and English GCSEs of at least grade C or D.
The restrictions would have closed the door on career opportunities for the 40 per cent (249,164) of 2011/12's GCSE cohort who failed to achieve A*-C in English and maths.
An advert posted earlier this month on the government's Find an Apprenticeship web search site— for an intermediate level three-year retail apprenticeship with Aldi that would pay £162 a month — stated: "You'll need maths and English grades A to C."
The apprenticeships page of the supermarket chain's own website indicated the same restriction applied to all its apprenticeships.
When invited by FE Week to respond to the double standards accusation, an Aldi spokesperson would only say: "We intended for the advert to be light-hearted and apologise for any offence caused."
She also confirmed that the advert would not be screened again, adding it had only run for two days as part of a 'special buy' promotion.
Main image: The Aldi Apprenticeships page on its website