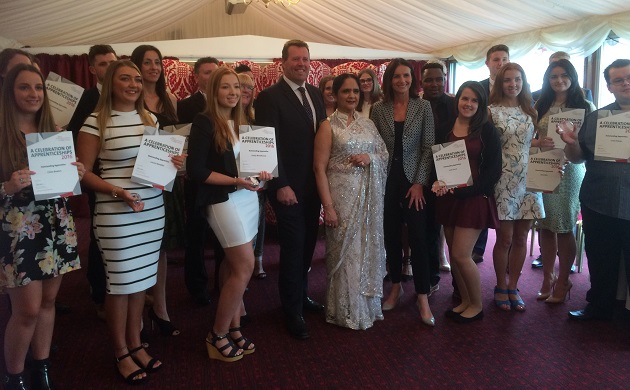 Thirty of West Nottinghamshire College's top apprentices have been honoured in a special event at the House of Lords today.
The worthy winners, chosen from among the college's 13,000 apprentices, each received an award in the fifth annual West Nottinghamshire College Celebration of Apprentices.
The event, held at Westminster overlooking the River Thames, was intended to recognise and celebrate the apprentices' achievements.
For the first time, employers of apprentices were also included in the honours for their commitment to apprenticeships.
West Nottinghamshire College principal Dame Asha Khemka told FE Week that the celebration was intended to "showcase what people achieve".
She said: "I felt that by bringing apprentices, their employers, their parents to the House of Lords it's raising the status – it's almost putting apprenticeships on the map."
In doing so, it sent out the message "that you are important, your achievements are significant, and let's celebrate in style in a place where we all want to be," she added.
West Nottinghamshire College is one of the largest apprenticeship providers in the country, with a Skills Funding Agency allocation of more than £5m for 16 to 18 apprenticeships in 2015/16.
Dame Asha said the college had "embraced" the apprenticeship agenda in order to "give people the opportunity to achieve their best".
Apprenticeships, she said, give people "that exposure, that opportunity, to ready for the world of work".
Among those who received an award today was 61-year-old Carol Hall, who works for Bluesky Care and completed a Level three apprenticeship in health and social care.
She said doing her apprenticeship was "daunting when I first started" particularly as it involved English and maths – which she said it had been a "long time" since she'd studied.
But with support she was able to complete the "whole level 3 in 11 months not two years".
She added: "It's not only been something I've enjoyed to do, it's given me the computer skills to do it all on the computer rather than doing it all by hand."
Jonathon Miller, 28, who works for DB Cargo and completed a level two apprenticeship in rail services shunting, said it was a "great achievement" to be at today's celebration.
"To beat 13,000 people is a good feeling," he added.
Andrew Burbidge said he chose his level three apprenticeship in IT, software, web and telecoms, because "it offers everything".
The 25-year-old, who works for PKF Cooper Parry, said: "For me, you choose an apprenticeship because of the career, it's the industry you want to be in, and that's pretty much what persuaded me."
Other speakers at the event included the Confederation of British Industry director general Carolyn Fairbairn, who spoke about the importance of apprentices to business.
She said: "The businesses I speak to really get it. They know that hiring an apprentice is not a cost – it's an investment in their company's future that they can't afford not to make."
[slideshow_deploy id='49116′]