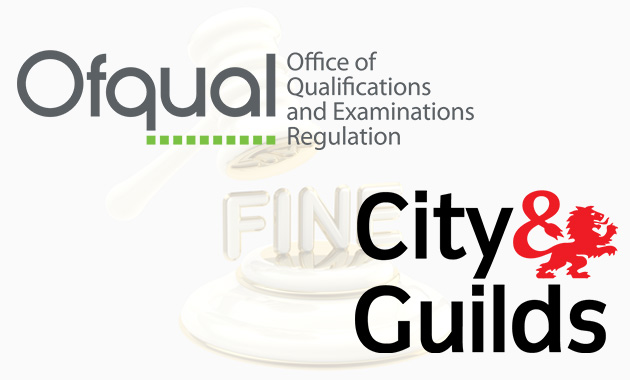 Ofqual has announced that its' first ever fine to an awarding organisation will be for City & Guilds, over the late issuing of more than 22,000 results.
The qualifications and exams regulator published a notice of intention to impose the £38,000 financial penalty yesterday.
An Ofqual spokesperson confirmed to FE Week this "would be the first occasion we have fined an awarding organisation if it goes ahead", under powers granted back in 2012.
The notice stated that 22,229 late results were issued between the middle of March and the end of May last year.
It said: "On February 1, 2015, City & Guilds identified an incident that resulted in it becoming aware, on or around February 16 that it could fail to issue results for certain qualifications (including paper-based Functional Skills) in accordance with its published timescales.
"On approximately March 13, City & Guilds first failed to issue results in accordance with its published timescales for these qualifications," it added.
The awarding organisation notified Ofqual on April 17 and "thereafter maintained frequent and effective communications about its management of the incident", before it was resolved from June 5 and "results thereafter were issued in accordance with published timescales".
An Ofqual investigation followed, which resulted in it criticising City & Guilds for taking more than two months to report the incident.
The notice said this prevented the regulator from "exercising regulatory supervision of the response to an emerging incident to ensure that action is taken to mitigate potential prejudice to learners and to minimise the detrimental impact on public confidence in regulated qualifications".
But it did say in mitigation that City & Guilds has "to date had a good history of compliance" with Ofqual's conditions; has "co-operated fully with Ofqual's investigation of the incident"; and has "not benefited financially from the incident".
A City & Guilds spokesperson said: "We regret the incident that happened last year and are pleased to have cooperated fully with Ofqual to bring the situation to a close. We have also taken a number of steps to minimise the risk of such a situation happening again".
The awarding organisation, which offers over 600 qualifications in a range of subjects in the UK, including over 100 apprenticeships, still has the opportunity to make representations in respect of the proposed fine, provided it is submitted by August 5.
Ofqual's own guidance on its fines regime for awarding organisations states: "We can impose a monetary penalty (a fine) on an awarding organisation if it appears, on the evidence available to us, that it has breached a condition of its recognition.
"A fine may be for an amount up to 10 per cent of an awarding organisation's annual turnover. This limit applies to each fine we decide to impose and is not a cumulative limit for a financial year.
"We will decide what the appropriate amount of the fine should be taking into account all the circumstances of the case."
No further details about the circumstances surrounding the late results was provided in the notice, and Ofqual and City & Guilds both declined to provide more information.