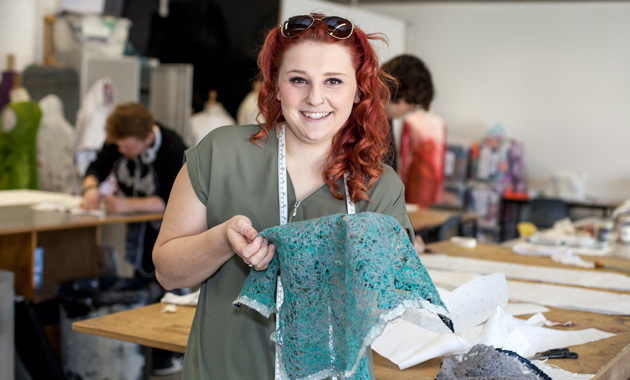 A teenage art and design college student has showed off her creative skills to the entire nation, by making it to the final of the BBC's 'Great British Sewing Bee', writes Billy Camden.
She may be just 18-years-old, and Sussex Downs College learner Jade Earley has come up against many competitors who were wielding a needle and thread years before she was even born.
But a steady nerve and huge amount of talent and dedication have helped her to become the youngest person ever not just to appear on the Great British Sewing Bee, but also to make the final.
Jade has been a constant on the BBC Two show hosted by Claudia Winkelman (pictured below) since its fourth series began in May.
The teenager's talents have so far led to her scooping garment of the week — the judges' ultimate accolade — two weeks running.
The first was for a perfectly pattern-matched sixties-style jacket in week five of the competition, while her black and pink lightning print yoga pants and crop top — complete with tricky crossover straps — grabbed the top spot in the following week's quarter-final.
And after another solid performance in last week's semi-final, where she had to make an asymmetric yoked skirt inspired by modern Japanese pattern cutting, the judges gave her the thumbs up to go through to Monday's final.
Speaking to FE Week before the final showdown, Jade said the experience has been "amazing" and she has "loved every part of filming".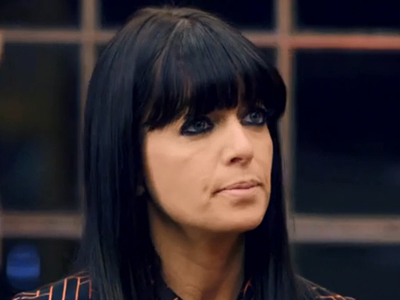 She added: "It still seems very surreal seeing myself on the TV, my favourite part was getting to meet the other sewers but the amazing cast and crew that work so hard to make the programme possible.
"I've had the most amazing support from my family and also my college and friends. They tweet and text me after the programme telling me how well I did.
"There have been nine amazing sewers on the show and I did say to myself before going onto the programme I would like to get to at least episode five. I'm overwhelmed to be in the final."
Jade, who studies level three art and design at college, was a competitive swimmer until she dislocated her knee in 2012 and was sadly told that she could never compete again.
Determined to find another passion she channelled her energy into sewing and has been "hooked" ever since.
And her college couldn't be prouder of her achievement. Mike Shepherd, Jade's tutor, said: "The team and I are all really proud and excited by how well Jade is doing on the sewing bee.
"It's great to see her passion and sheer enjoyment of the subject driving her through the competition, it certainly makes my Monday nights a point of focus to the week."
Jade said the show had made a "massive impact" on her life.
"It has taught me there is a big wide world out there go and enjoy it and no matter what life throws at you keep trying you have to work hard to succeed.
"I will be sewing for the rest of my life. I live, eat and breathe it. Sewing is my career now."
You can see if Jade is crowned champion of the Great British Sewing Bee by tuning into the final which will be aired on BBC Two on Monday July 4 at 9:30pm.