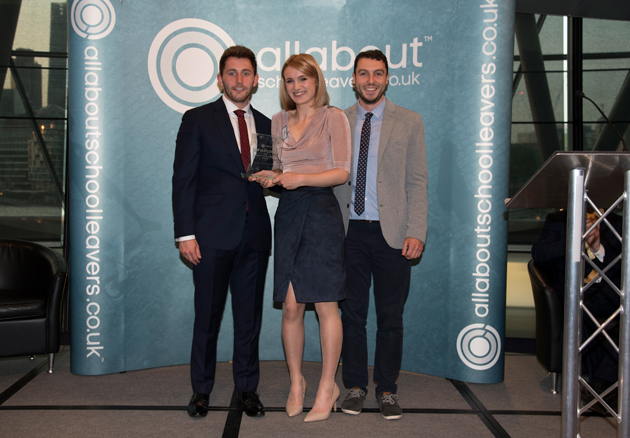 Apprentice employers have been honoured at a glitzy ceremony at London's City Hall.
The fourth national AllAboutSchoolLeavers Awards were judged using employee satisfaction surveys.
Twenty-nine awards were up for grabs on the night, rewarding top UK employers who offer intermediate apprenticeships, advanced apprenticeships, higher apprenticeships, school leaver programmes and sponsored degrees.
Mercedes-Benz was named top employer for school and college leavers, and Amber Westmoreland of EY (formerly Ernest and Young) won the School or College Leaver of the Year award.
"I chose the school-leaver route because I didn't want to go to university when I left college," said 21-year-old Amber. "When I found out there was a route to get a professional job – one that I would have thought you'd need a degree for – without having to go to university, I jumped at it."
Sharing the limelight was Peugeot Citroën Retail Group, who won the Top Intermediate Apprenticeship Employers award, and Barclays, who picked up the Top Higher Apprenticeship Employers trophy.
Main photo: Amber Westmoreland receiving her School or College Leaver of the Year award from Jack Denton (right), cofounder of AllAboutGroup, and Ed Dean, account executive at the AllAboutGroup