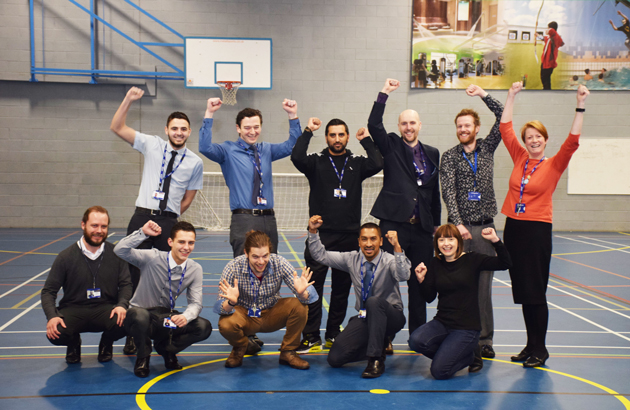 A mother whose baby boy was stillborn leaned on the caring hearts of her Nelson and Colne College friends to take on a mammoth running challenge in a bid to drive up funds for the charity that supported her, writes Billy Camden.
Rachel Cox and her husband Adam were left devastated in January 2011 when their baby Ewan was stillborn after seven months of pregnancy.
It was the support of stillbirth and neonatal death charity Sands, which helped the couple through the grieving process at the time of such heartbreak.
And now the couple have been able to give something back to the charity thanks to the help of their Nelson and Colne College (NCC) colleagues' fighting efforts.
A group of 15 staff members joined Rachel, the college's student services manager, and Adam for the gruelling 10,000-metre Great Manchester Run.
Rachel said it was a "tough" event but one that was well worth the physical pain.
"When you are struggling the crowd really push you along and they really get you going. There is a real solidarity between us as a group and the crowd, it makes for a great atmosphere.
"The generosity of staff at Nelson and Colne College has been overwhelming, and I am thrilled they chose to raise money for Sands."
Physics tutor Ste Coase, who took part in the run, said: "There was a real sense of camaraderie within team NCC, and it was an absolute pleasure for us all to support Rachel on the day and raise money and awareness of a cause that is exceptionally close to her heart."
The run was the latest fundraising stunt put on by Rachel and Adam, who have hosted three quiz nights and promoted the work of Sands — raising more than £8,000 for the charity since 2011.
Rachel, who is also mum to Dylan, aged four, and Jude, 15 months, said that losing Ewan was a "complete shock to the family", but it was the support of Sands that "helped us through our grieving process".
The charity allowed Rachel and Adam to use the serenity suite at Burnley General Hospital, and spend quality time with their baby.
Rachel said: "The stillbirth was devastating because you never think it is going to happen to you. You think it is something that happens in Victorian times and shouldn't happen in 2011.
"Pregnancy and birth are meant to be happy times and that is what you look forward to. We went on to have two more children, but you lose your confidence a bit and you become muted and a lot more nervous because of our previous experience."
She hopes that the money raised allows the charity to continue with its research and ultimately prevent other families from suffering in the future.
Judith Abela, acting chief executive of Sands, said: "We cannot thank Rachel and her colleagues at NCC enough for taking on this amazing challenge, for Sands and in memory of baby Ewan."
You can still make a donation to the NCC team by visiting www.justgiving.com/Nelson-and-Colne-College3.
Main photo: Rachel Cox's colleagues who joined her for the gruelling 10,000m Great Manchester Run