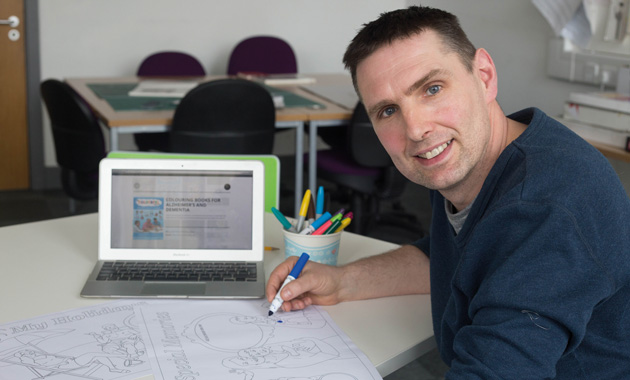 A colouring book which triggers memories for people who suffer from dementia and similar illnesses has been created by a student from Blackburn College after he was inspired by his late father, writes Billy Camden.
A mature student from Blackburn College has used the life of his father to create a colouring book that sparks memories for people with dementia.
Neil Floyd was just 16 years old when his dad, Samuel, was diagnosed with Parkinson's, meaning Neil had to become his full time carer.
Ten years ago it was confirmed that his father also had dementia and Samuel eventually died in 2013.
Inspired by the time he spent with his father, Neil began his illustration and animation course at Blackburn College.
As part of his studies, he has created My Colourful Memories, a colouring book for dementia sufferers with outlines of special moments including children being born, family holidays, weddings, former pastimes and hobbies.
Neil, now aged 47, said: "It has been a personal journey for me.
"When I visited him [Samuel] at the nursing home, colouring was one of the only things we could share and do together.
"He was always talking about the past so the concept came from that. I thought it would be great to create a book that could trigger memories through images."
Neil confessed that he wasn't sure what to do with himself when his father passed, but said he had always had an interest in drawing and it was something his dad always encouraged him to pursue.
"The course has been therapy for me because it was what I needed to do at that time. It was a positive step," Neil said.
"Drawing was something that I always wanted to do and something that my dad thought I should be doing, so I had that in my mind when enrolling."
Neil admitted that he found it hard going back into care homes as part of the project, but said he had received really positive feedback from the residents.
He said: "The book is benefitting people. Families and carers are sharing stories prompted by memories triggered by the colouring books.
"Nelson Dementia Day Centre started using it and they loved it. They were doing workshops and activities and it has had really good feedback.
"Sometimes, because it works as a visual communication as triggers, the resident doesn't always have to colour in, they can still communicate through the images and just talk about the past.
"It is unique, but it is really my dad's idea. I think I have created something he would be proud of."
Neil is now hoping to take the book further and start selling it and making it available for more nursing homes to use once he graduates.
"I don't want the colouring book to just stay in my folder. I want more people to be able to enjoy it," he added.
John Harrison, head of school of art and society at University Centre at Blackburn College, said: "We're all extremely proud. For Neil, this isn't about completing his illustration and animation course, it's about creating something as a legacy for his father. In doing so, he has created something that is picking up national interest and is creating a real difference to dementia sufferers."
Main picture: Blackburn College learner Neil Floyd with his My Colourful Memories book