> 'Valuable analysis' shows 20 per cent of adult funding being spent on learners outside region of the provider
> Skills Minister warns SFA that 'contracts spanning multiple geographic areas…may become less appropriate'
Ahead of funding devolution, exclusive FE Week analysis of Skills Funding Agency figures published this week has found close to £300m (20 per cent) of adult funding, excluding apprenticeships, is being delivered to learners living outside the region in which their provider is based.
The average out of area funding for colleges in 2014/15 was 16 per cent, with ten colleges using more than half of their budget for learners not living in their region.
This revelation comes after Nick Boles also said in his grant letter to the Skills Funding Agency (SFA) that Adult Education Budget "devolution deals will provide specific localities with the power to make their own funding decisions and it may become less appropriate to let large national contracts spanning multiple geographic areas".
The warning was passed onto providers by SFA boss Peter Lauener when he shared the out-of-area figures and said in his 2016/17 allocation letter to providers that: "As we move to local commissioning and devolution, commissioners will expect local resources to be deployed to support their local area."
The figures, shown here for the first time by provider type, also show more than half (58 per cent) of all private provider learners came from beyond their head office areas — which amounts to £115.5m funding.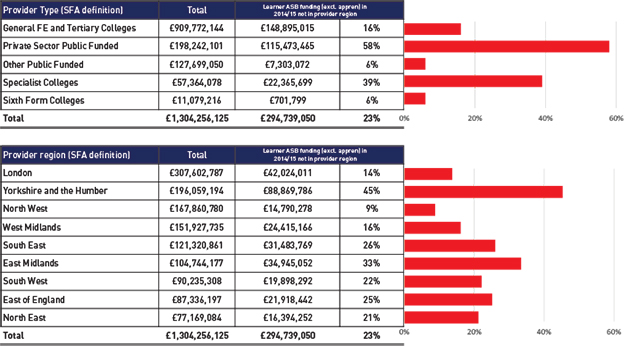 The figures produced a passionate reaction from providers highlighted by FE Week as most vulnerable to the reforms, and bolstered the Association of Colleges' call for delay to the reforms.
Janet Meenaghan, principal and chief executive of New College Stamford, which had 72 per cent of funding for out of region learners, said: "As a college which is sited in the south of Lincolnshire, but located close to the borders of four other counties, devolution poses particular issues for us.
"Employers, students and parents don't recognise boundary lines on maps. They want to access high quality education and training which best suits their needs."
John Taylor, joint managing director at Birmingham-based Access to Music Ltd, which had an even higher proportion of learner funding out of region (87 per cent) warned: "This could lead to a 'postcode lottery' for students studying with us.
"We would strongly urge a pause on implementation to allow further consultation."
James Bishop, managing director of West Berkshire-based The Skills Partnership Limited, with 100 per cent out of home region learners, said its administrative hub office location was "generally of secondary importance".
This compared to "establishing if we could demonstrate we were able to respond effectively to a particular region's priority training requirements".
The highest proportion (76 per cent) for a college was for Eastleigh College, and principal Jan Edrich said: "It's in the interests of employers and economic growth that this delivery is not compromised by the implementation of overly restrictive commissioning arrangements."
But Dan O'Keefe, managing director at TQ Training, which had 99 per cent out of area learners, said: "We have been based in Northamptonshire for 21 years, and the location was chosen as it's in the middle of the country, so it enables us to service clients across England.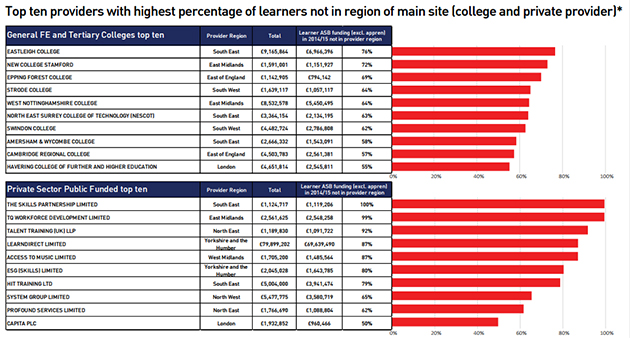 "The proposed [devolution] approach is not dissimilar to regional contracts which existed until 2010, where providers would have up to nine contracts for each of the nine different regions."
Mark Dawe, chief executive of the Association for Employment and Learning Providers, said: "FE Week's valuable analysis clearly shows the complexity of local and national provision, which includes specialism and the need to meet the demands of regional and national employers.
"It's very important devolution and the area reviews take account of this."
The Association of Colleges would not be drawn on the matter this week, other than to say: "It is up to each college to decide how they deliver their non-apprenticeship adult courses to ensure the most suitable provision for their students and employers."
But its assistant chief executive Julian Gravatt admitted in Edition 173 he was concerned the government had not finalised how devolution would work for provider groups based in multiple regions.
He said: "It would be better to delay the budget devolution rather than move ahead with half-completed plans."
It is unclear the extent that the out of region figures result from subcontracting, but Mr Lauener also told providers: "In understanding the pattern of delivery, you should give specific consideration to the provision you sub-contract and how much of it is outside your immediate commissioning area(s).
"We will share information on where your sub-contracted provision is delivered with areas that have a skills devolution agreement or a skills incentive pilot."
——————————————————————————————————
Editorial: Out-of-area but not out-of-time
Those of us in FE with even short memories will remember that the Learning and Skills Council (LSC) was scrapped, along with 47 local LSC councils, to remove their planning role.
It is therefore something of a return to the past with devolution of the Adult Education Budget (AEB), with providers facing even greater learner postcode scrutiny.
But new SFA figures crunched by us this week expose the challenge new local commissioners will face.
When they get their hands on the budget, why would they want to pass it on to providers spending it on learners living in another area?
They won't, so in the absence of a national provider funding system we can expect major upheaval, particularly for colleges and training providers based near to area boundaries.
The end result may be a better one, with less subcontracting and more focus on colleges, in particular, supporting their local community.
But the SFA figures understate the issue, as they are based on the nine regions in England rather than the near 40 commissioning areas.
Any provider expecting a degree of stability over the coming years from the £1.5bn AEB budget will be sorely disappointed.
Devolved commissioning will be complex and the potential for unintended consequences are great.
So before opaque chaos reigns, if not delay then let's at least be sure there is sufficient time for well-run consultations and pilots.
Nick Linford